Park Hang-seo completed his 14-day quarantine on Thursday after returning to Vietnam from a holiday in his native South Korea, and is itching to get back to work with the national team.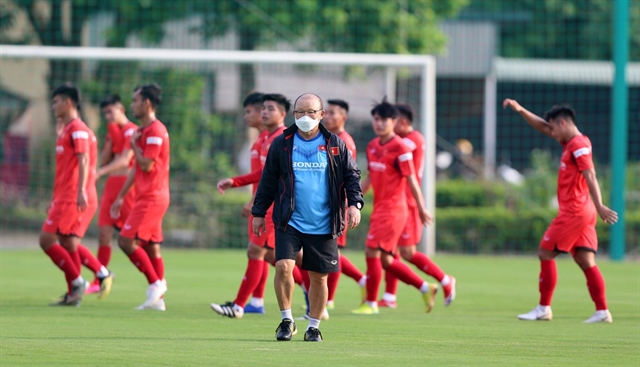 South Korean coach Park Hang-seo is ready to work and promises to bring Vietnam to 2022 World Cup's third qualification round. Photobaobinhduong.vn
In a meeting with Minister of Culture, Sports and Tourism Nguyen Ngoc Thien and the Vietnam Football Federation the same day, Park was informed about the new schedule of the World Cup qualification Group G matches which have been moved to June 3-15 and will be held in one venue because of the COVID-19 pandemic.
He said Vietnam's target would be six points from the three remaining matches to ensure a berth in the final stage of qualification for the first time ever.
"In 2021, Vietnam will compete in important tournaments which are also huge challenges. I promise to try my best to help Vietnam complete goals," said Park through an interpreter.
"Our winning results were in the past. Now we will look to future events. I have spent time to research everything concerning our qualifying matches. I am determined to bring joy to football lovers," he said.
Vietnam currently lead Group G with 11 points. The UAE, Thailand and Malaysia are close behind while Indonesia have been ousted.
The top teams of each of the eight groups will advance to the last qualification round alongside the four best runners-up to vie for four automatic berths and one playoff spot for the World Cup proper.
These 12 teams will also receive direct slots qualify for the Asian Cup 2023 finals.
Park's skipper Que Ngoc Hai said playing in one venue means most teams would not have a home advantage but he believed in his coach who would have different plans to adjust when required.
Meanwhile, striker Nguyen Tien Linh said he was unconcerned by the venue decision.
"Competing away from home is not a problem for us. We are familiar with that. We just try to take three points from the first match against Indonesia, which will make us more confident for the next steps," Linh said.
Speaking at the meeting, Thiện said he hoped that VFF officials and Park would work out the best plan for the national team who according to FIFA's February rankings, sit 93rd in the world 14th in Asia.
"The three coming matches are really important. Good results will push Vietnam to the last qualifier for the first time. I believe that under coach Park Hang-seo and together with the strong support of local fans, our team will reach its best," said Thien.
However, Park will have to do without defender Trần Đình Trọng and midfielder Nguyen Trong Hoang in the match against Indonesia on June 7.
Trọng was sent off in a match between Vietnam and North Korea in the last match of the Asian U23 Championship's group stage in 2019.
This year, Trong is over-aged for the U23 squad so his suspension will be applied for the national team match.
Meanwhile, Hoang got two yellow cards in matches against Malaysia and Thailand in the qualifiers in 2019.
Defender Doan Van Hau could also miss out as his knee injury may keep him sidelined until June.
After Indonesia, Vietnam will play Malaysia on June 11 and the UAE four days later. The destination of the matches will be announced in mid-March. — VNS

Thanh Hoa football club has recently lost two lawsuits and had to pay compensation totaling over VND5 billion (over $240,000), including $200,000 to its former Italian coach Fabio Lopez.