Coach Park Hang-seo has announced a squad of 29 players to travel to the UAE for the upcoming 2022 World Cup qualifiers.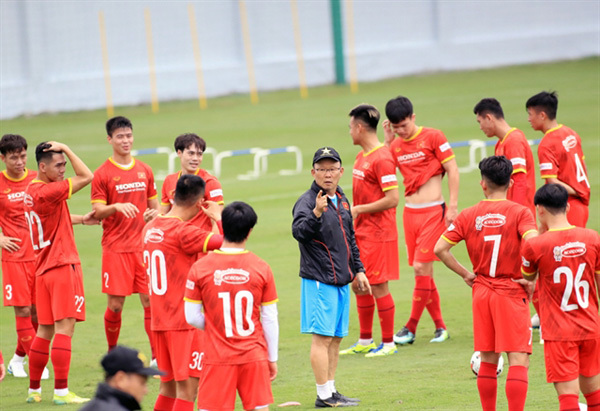 Coach Park Hang-seo announces a list of 29 players to compete at the 2022 World Cup's second qualifier in the UAE next month. — Photo courtesy of VFF.
The squad includes three goalkeepers, 11 defenders, 11 midfielders and four strikers.
Among them, 27 have been together in a training camp in Hanoi since early this month. Dang Van Lam who will join the team in Dubai after departing from Japan, where he plays for Cerezo Osaka FC, on May 26.
The other player not in the camp is midfielder Nguyen Hai Long who is in the U22 squad. Long, 20, of Than Quang Ninh together with defender Nguyen Thanh Binh of Viettel are the two youngest players in the squad.
Defender Doan Van Hau of Hanoi FC and midfielder Nguyen Trong Hoang of Viettel both made the team despite having recently recovered from injury. 
Veteran Hoang and defender Tran Dinh Trong of Hanoi will be ineligible for the first match against Indonesia due to suspension.
Midfielder Tran Minh Vuong of Hoang Anh Gia Lai (HAGL) finally won Park's trust and made the squad after struggling to breakthrough in recent years.
The rest of the team are all key players who have been regular faces such as strikers Nguyen Cong Phuong and Nguyen Van Toan of HAGL, and Nguyen Tien Linh of Becamex Binh Duong; midfielders Nguyen Quang Hai of Hanoi, Phan Van Duc of Song Lam Nghe An, and Luong Xuan Truong and Nguyen Tuan Anh of HAGL; and defenders Do Duy Manh of Hanoi, Que Ngoc Hai and Bui Tien Dung both of Viettel.
The Vietnamese squad will leave for Dubai tomorrow, seven days earlier than the other teams. They will stay in a hotel and have their own training plan before joining other squads of Group G at the Crowne Plaza Dubai Hotel from June 3-16.
All the travelling party will be tested on arrival for COVID-19 and must then quarantine in their hotel room until they receive a negative result. Players will then be tested after every four to five days.
Also because of the COVID-19 pandemic, teams are allowed to finalise their 23-man matchday squad 90 minutes prior to kick-off.
Vietnam, who are currently on top of Group G, will play Indonesia on June 7, Malaysia on June 11 and the hosts four days later. The matches, which all begin at 11.45pm Vietnam time, will be shown live on VTV5 and VTV6.  

Full squad:
Goalkeepers: Đặng Văn Lâm (Cerezo Osaka), Bùi Tấn Trường (Hà Nội), Nguyễn Văn Toản (Hải Phòng)
Defenders: Bùi Tiến Dũng, Quế Ngọc Hải, Nguyễn Thanh Bình (Viettel), Hồ Tấn Tài (Bình Định), Vũ Văn Thanh (HAGL), Đỗ Duy Mạnh, Trần Đình Trọng, Nguyễn Thành Chung, Bùi Hoàng Việt Anh, Đoàn Văn Hậu, Lê Văn Xuân (Hà Nội)
Midfielders: Nguyễn Hoàng Đức, Nguyễn Trọng Hoàng (Viettel), Phan Văn Đức (SLNA), Nguyễn Phong Hồng Duy, Lương Xuân Trường, Nguyễn Tuấn Anh, Trần Minh Vương (HAGL), Nguyễn Quang Hải, Phạm Đức Huy (Hà Nội), Lý Công Hoàng Anh (Hà Tĩnh), Nguyễn Hai Long (Quảng Ninh)
Strikers: Hà Đức Chinh (Đà Nẵng), Nguyễn Tiến Linh (Bình Dương), Nguyễn Công Phượng, Nguyễn Văn Toàn (HAGL)
VNS 

Head coach Park Hang Seo of Vietnam's national football squad has completed the final list of 37 players for the upcoming World Cup 2022 qualifying round in the United Arab Emirates (UAE).