Both Vietnam national team manager Park Hang-seo and the VFF (Vietnam Football Federation) have rubbished reports the Korean strategist is plotting a move to a football club in Thailand.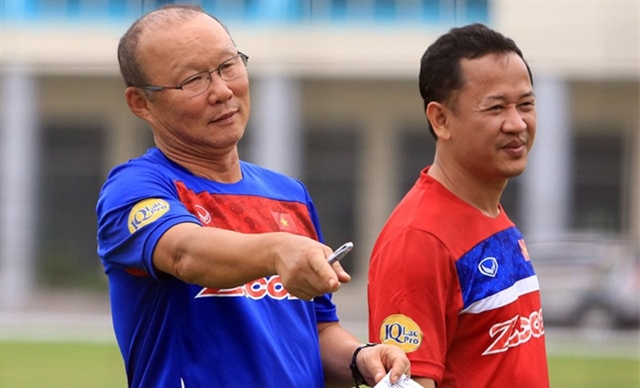 Coach Park Hang-seo's language assistant Le Huy Khoa (right) also called the rumours that coach Park is negotiating with a Thai club "fake news". Photo Thethao247.vn
On August 22, the future of coach Park was thrown into doubt when Thai media claimed he was in negotiations for a move.
According to reports, a top team from the Thai League 1 sent an offer to the Korean manager at the beginning of 2021.
Coach Park has not replied to the offer.
Le Hoai Anh, general secretary of the Việt Nam Football Federation, also denied the rumours.
"These are baseless rumours and currently the VFF is not interested in this matter because there are many things to be resolved," Anh told Thethao247.
Coach Park and the national team are concentrating on preparations for the 2022 World Cup qualifiers against Saudi Arabia and Australia.
The 63 years old was also very angry and denied the false rumours about him, especially on Youtube.
"If Youtube was a little more trustworthy, it would be better," Park told UCN Sports.
"Despite there's some true news about me, it's still not reliable as there is also too much fake news about me at the same time.
"This is why I don't usually watch Youtube. If I watch it, it's just about football. If someone tells me to watch it, I'll watch it, but if not, then I hardly ever touch it," he added.
On January 31, 2022, the contract between Park and the VFF will expire. There is also a clause that both parties can extend it for another year.
However, Park wanted to temporarily put this issue aside to focus on leading Việt Nam in the final round of the 2022 World Cup Qualifiers in Asia.
Viet Nam will face Saudi Arabia in the first match of the qualifiers on September 3. 
Source: VNS