A castle made from discarded tyres? One might find it hard to believe, but that's what an old man in the central province of Khanh Hoa is trying to finish by the end of this year.
Hanoi painter grows vegetables with recycled products
Pimping rides in Da Nang's workshops
Artist gets more creative with caricature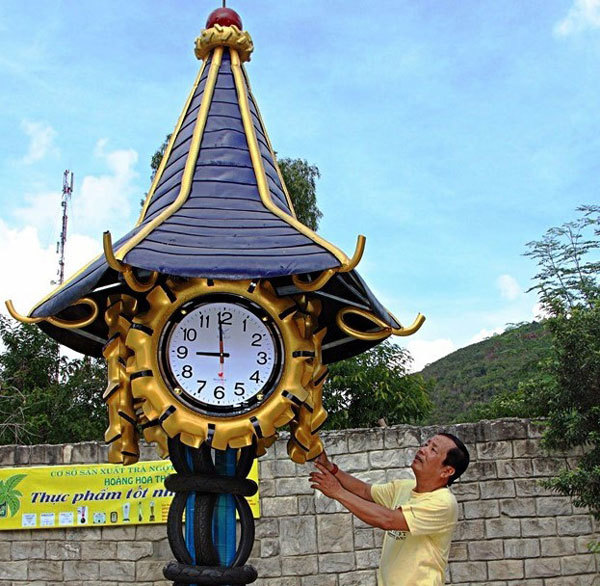 TREAD OF TIME: Nguyen Van Phung is pictured with a clock tower made from discarded tyres. — Photo danviet.vn
Nguyen Van Phung, 58, from Phuoc Dong Commune has also turned the used car and bike tyres into hundreds of works of art and furniture, which wow visitors to his house, like fashionable dresses, decorative clocks, belts or even bonsai trees.
As the creator of over 500 products made from discarded tyres, he has recently been granted with Viet Nam Book of Records' certificate of possessing the biggest collection of products made from used tyres in Vietnam.
Phung said he used to work removing big tyres and recycling them into tyres for bicycles over 30 years ago when the country's economy was still struggling.
With ten years' experience, he understands the structure and position of each tyre like the back of his hand.
It was also when he started to collect old tyres with unique shapes and sizes.
"There are thousands of kinds of tyres that differ in size, surface, structure and function. After changing jobs, I had the chance to travel across the country and kept the habit of paying attention to tyres wherever I went. I also bought rare and strange tyres on travelling to Laos and Cambodia," Phung said.
"I don't remember how much money I have spent on discarded tyres. They obsess me in my thoughts and dreams. Seeing new interesting tyres, I feel extremely happy."
The idea of turning tyres into furniture and decorative objects came to Phung two years ago, after visiting a friend's garage and seeing a mess of discarded tyres.
As a person always keen on new ideas and who understands clearly tyre structures, he started creating simple items like handbags, belts, furniture or clocks and then more sophisticated artistic objects like buildings or bonsai trees.
"Each tyre has its own structure and shape, based on which I envision the object I will create. Otherwise, when I come up with an idea, I try to collect the appropriate tyres," he said.
However, turning discarded tyres into decorative products is not an easy task. The tyres are classified and cleaned before being processed. Their outer rubber has to be peeled off to make it thinner or get rid of the worn-out surface.
"Old tyres can be turned into new products, from big to small. The main sources are from within the country, collecting from roadside garbage dumps or buying them from companies. Some of my works require tyres that are not available in Vietnam so sometimes I have to buy them from abroad," Phung said.
Collecting tyres has become such a strong passion for the old man.
"One time I stumbled when running towards the tyre but I forgot all the pain when it was in my hand," he recalled.
Tyres can be found in any nook and cranny of Phung's house but that does not bother his family members who have supported his strange hobby.
"My family considers tyres as friends or benefactors that helped us overcome our financial difficulties," he said.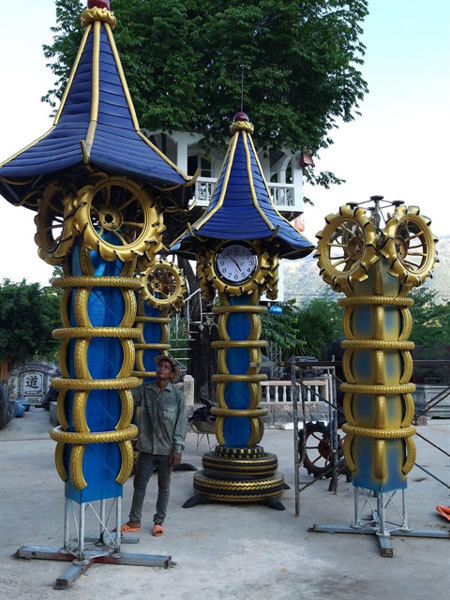 Phung's favourite items are clock towers made from discarded tyres. — Photo courtesy of Nguyen Van Phung

Among his 500 creations, the clock tower is his favourite, as "it has a nice shape and appropriate structure. Furthermore, it is a meaningful item, reminding us to treasure the value of time".
At present, Phung is finishing his collection entitled "Peace Desire", which includes many models of weapons made from tyres like cannons, bombs or rockets for exhibition. The collection aims to portray the brutality of war, while praising peace.
Another work that he is putting his final touches on is a tyre palace with all furniture made from tyres, which is expected to be finished at the end of this year.
His strange hobby might satisfy his passion but moreover, it conveys a message about environment protection.
"The world is facing widespread garbage dumping and discarded tyres are among the garbage that takes the most time to decompose, up to 300 years. My purpose is creating as many unique creations as possible and discarding nothing. If we could recycle the discarded materials into furniture or works of art, we are contributing to environmental protection," the collector said.
Phung said that he wanted to create as many products from discarded tyres as possible and open an exhibition of his works soon.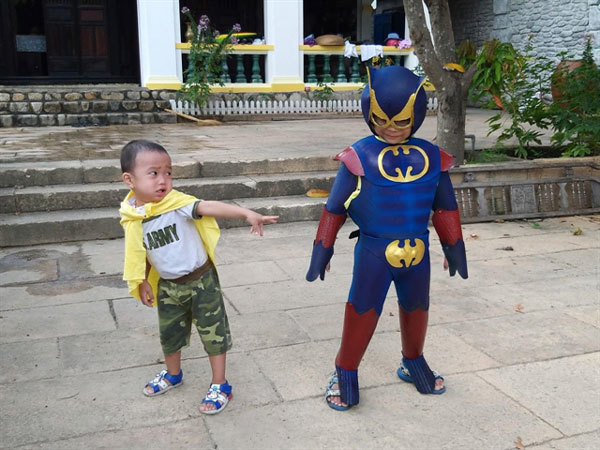 GET A GRIP: A kid is dressed in a batman costume made from discarded tyres. — Photo courtesy of Nguyen Van Phung
He has recently submitted an application to World Record Union with the hope of setting a world record for the largest collection of products made from discarded tyres. VNS
Luong Thu Huong