A concert entitled Thanh Âm Từ Thiên Nhiên (The Sound From Nature) will be aired live from the National Conference Centre on Viet Nam National Television (VTV)'s Channel 1 on August 18.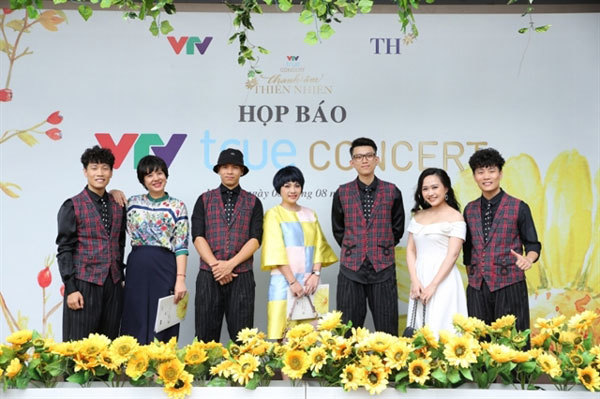 Boyband Oplus (in matching outfits) will perform at The Sound From Nature at the National Conference Centre on August 18. — Photo vtv.org

The concert is being created by popular composers Luu Ha An and Thanh Phuong, choreographer Tan Loc and director Cao Trung Hieu
For the first time, audiences will get to experience music in a different way. At the concert, every sound from nature will be expressed to show its inherent natural beauty. The audience will have a chance to immerse themselves in a concert of nature.
The space of the concert will be full of images showing the Earth, flowers and babies.
"The Sound from Nature will tell a romantic story that will take you out of your daily busy routine to relax, listen, feel and love life," journalist Dang Diem Quynh, a representative from the VTV, said at the press conference.
The concert will feature folk music from different areas such as quan họ (love duet) from northern Bac Ninh Province, ví giặm (giặm singing) from central Nghe Tinh Province and the pieces from the ethnic minority group of Xe Dang.
The song Bông Hoa Đẹp Nhất (The Most Beautiful Flower) composed by An will be a highlight of the concert.
"A new-born baby means a life has just begun," said An. "It is the most touching and beautiful moment. After that, there are two mothers – the child's biological mother and mother nature, raising the baby in tandem as it grows up and matures."
Run without an MC, the concert will devote all its time to music and images that inspire emotions and help the audience enjoy the experience will all their senses.
Music will be played by an orchestra and traditional instruments such as kèn lá (leaf-horn), đàn môi (mouth harp) and bamboo flute.
Performing at the concert will be popular artists such as Thanh Lam, Tung Duong, boyband Oplus, Ngo Hong Quang and young talent Trinh Nhat Minh.
Quang is a modern ethnic minority musician who plays many instruments. He studies at the Royal Conservatory in The Hague, the Netherlands. Minh was the winner of The Voice Kids Vietnam 2016.
The concert is being held by VTV and TH Group.
VNS