The Erato School of Music & Performing Arts will hold a concert at the French cultural center L'espace in Hanoi on December 11 to raise funds for underprivileged children.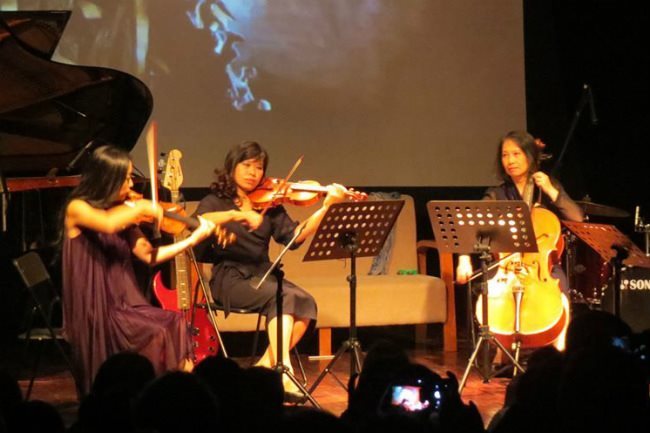 Artists perform at the Cinerato Concert 2017 - PHOTO: COURTESY OF ORGANIZER
The Cinerato Concert 2019 will feature multi-instrumentalist Vincent Fillatreau from the Conservatoire National de Toulouse and violinist Tran Thuy Ha from the Vietnam National Symphony Orchestra.
They will share the stage with enthusiastic teachers from Erato School, including guitarist Tran Quoc Dat, drummer Do Anh Quoc, and pianist Luong Nhat Long.
Fillatreau began his music studies at the Conservatoire National de Toulouse where he was awarded the golden medal in viola and chamber music. He has performed around the world with various groups of chamber music.
The audience will have a chance to enjoy classic works, including Le Festin, Classical Trio, The Sleeping Beauty: No.6 Valse/Ballet Dance, Glasgow love theme, Smooth, Vois sur ton chemin, and Thank you for the music.
All proceeds from the concert will go to The Hope Foundation to help underprivileged children who do not have a family, food and warm clothes. SGT

About 300 artists will perform at a concert entitled Vui Ca - Sing for Joy at Hanoi Opera House on November 30.

A charity photo collection has been released with each of the images depicting two Vietnamese beauties appearing alongside an elephant amid majestic scenery.