Thanh Quang Minh is a construction engineer in HCM City, but that hasn't dampened his passion for bolero music.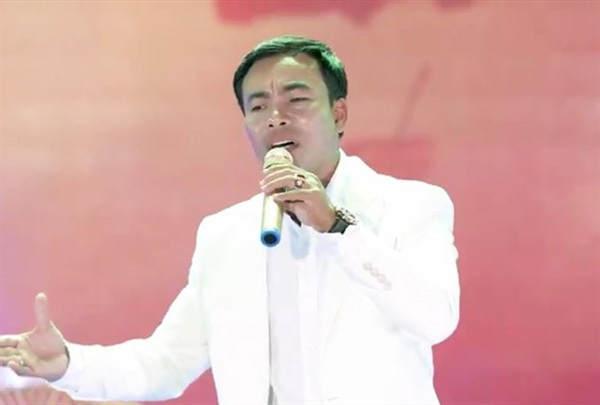 Thanh Quang Minh pursues love for Bolero music and wants to sing to raise funds for the poor. Photo tienphong.vn
For the past one year, he has travelled across the country singing to raise money for poor people.
Hailing from the south-central province of Ninh Thuan and born into a Cham ethnic family, Minh has nurtured a love for music since he was small.
His father was a singer in a small ensemble in the province back then.
Bolero originated in Spain in the late 18th century and then became popular in Latin America throughout the 20th century and continued to thrive.
It was popularised in southern Vietnam in the late 1950s.
This genre of music is a combination of Eastern musical elements of traditional Vietnamese music and Western popular music, and often used in love and romantic songs, called "yellow music".
The peak of classic bolero lasted in Vietnam from the 1960s to the mid 1970s. The music genre has become popular again in recent years.
Coming from an ethnic minority group and a poor family, Minh sometimes thought he would have to give up his passion.
He was lucky to meet a friend in 2016 who invited him to sing at an art centre.
Minh snapped up the invitation.
Working on construction projects during the day, Minh takes the stage to sing his favourite bolero songs at night.
The 40-year-old whose stage name is Che Minh wins the hearts of audiences not just because of his voice but also his simple style. When he sings, it's like he's telling a story.
Despite his busy workload as a construction company director, whenever he had free time, Minh records videos and posts them on Youtube, and they receive thousands of views.
He has so far recorded five bolero albums.
His idol is genre veteran Che Linh who hails from his hometown.
Che Linh is the source of inspiration for him to continue singing.
"In Ninh Thuan, my hometown, many people love singing but rarely can we find someone who is keen on following a singing career," he said.
"I want to use my voice to sing for the people of my hometown and inspire a love for singing among the youth because music makes us happier and feel closer together."
Minh's utmost wish is to use his voice to raise funds to help the poor.
He is now preparing for a charity trip to the central province of Thua Thien-Hue at the end of May.
"No matter how far it is, I always accept invitations to sing at charity events. I pay for my travel and accommodation, and refuse to receive royalties," he said.
"I hope the money from ticket sales will be used to help poor people, orphans and women living in disadvantaged circumstances."
Minh is planning to organise a charity music show in his hometown next year to raise money to help Cham people.
"No matter what job I have, I will continue to pursue my passion for music to help disadvantaged people," he said.
Uyen Phuong
VNS