A cooking contest is taking place on Wednesday at Muong Thanh Luxury Quang Ninh Hotel, near Ha Long Bay, with the theme Quintessence of Vietnamese Kitchens.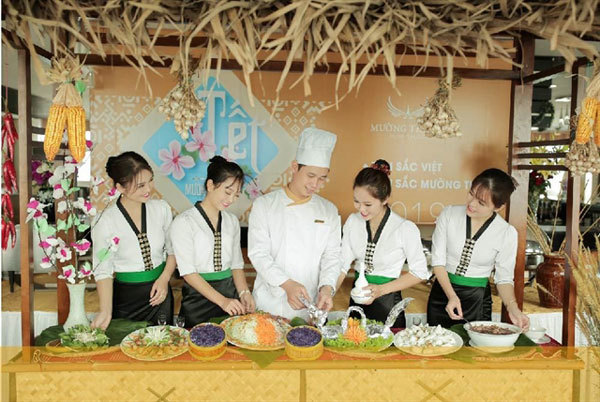 Chefs from Muong Thanh Hospitality will present specialities of the north-western region including sticky rice and grilled pork. Photo nhamuong.com
The contest draws the participation of more than 100 chefs nationwide, honouring the cuisines of different localities and promote the uniqueness and diversity of Vietnamese gastronomy.
After showing off their talents in cooking, the contestants also present the meaning, origin and concept of the dishes. The Vietnam Book of Records, VietKings, will give certificates for the regional delicacies of Vietnam.
The delicacies will be assessed by a jury including Chairman of the Royal Chefs Association Duong Van Hung, Masterchef Vietnam 2013 Ngo Thanh Hoa, Top Chef Vietnam 2014 Vo Hoang Nhan and Tran Thi Hien Minh, author of the book Hương Bếp Nhà (Scent from the Home Kitchen). — VNS

The Vietnamese-Polish winner of MasterChef in Poland, Ms. Ola Nguyen, will headline a special "Polish Gastronomy Week" on November 8-15 in Hanoi.  

The atmosphere of a traditional Tet (Lunar New Year) will be nudged closer to both Vietnamese and foreigners at the Tet Festival, which is scheduled to take place in Ho Chi Minh City from January 3-5, 2020.