The coronavirus outbreak has affected Vietnam's sporting schedule as plans of several teams have been changed.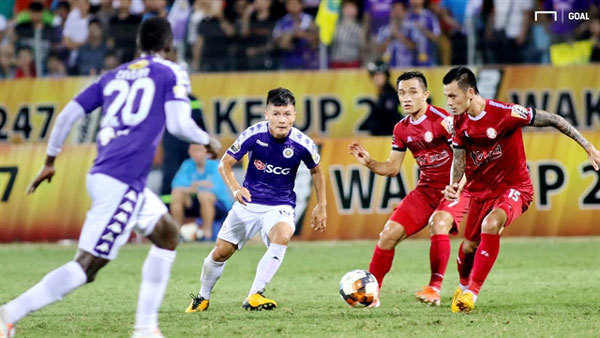 Hanoi FC and HCM City players in their V.League 1 match. Their National Super Cup match will be delayed due to coronavirus spread. Photo goal.com
The deadly virus which has killed more than 300 people in China has spread to Vietnam and forced the domestic football season's start to be delayed.
According to the Vietnam Professional Football Company (VPF), the Super Cup between V.League 1 champions Hanoi FC and National Cup runners-up HCM City will be moved from February to late this month or early March.
The delay of the match considered the opening game of the season forced the company to postpone kick-off dates of all three local tournaments, namely the V.League 1 (February 22), V.League 2 (February 29) and the National Cup (February 9).
The new dates were announced on Sunday.
The epidemic is affecting other sports as well, including the walking team.
The team was set for a training camp in China late this month ahead of Olympic qualification next month, but the camp has now been cancelled and they will train in Vietnam.
An Olympic qualifier tournament for boxing in Wuhan on February 3-14 has been moved to Amman of Jordan next month, forcing boxers like Nguyen Thi Tam, Nguyen Thi Huong and Ha Thi Linh to train for another month before their bouts.
"My athletes are excited to box. This change is out of our control. It makes us have to switch our plan to make sure their best performance, which previously fell in February, will be in March," said coach Nguyen Nhu Cuong.
Vietnam are aiming for at least one Olympic slot from this event. — VNS
Many tour agencies in Vietnam have started reporting losses due to the coronavirus outbreak as China is a huge market.  

This morning, February 3, the Ministry of Health confirmed that a 29-year-old female patient, a worker returning from Wuhan, China was positive for nCoV, bringing the total number of infection cases in Vietnam to 8.