Whenever I have the chance to pay poet Nguyen Quang Thieu a visit at his office, he's always surrounded by books and seems almost lost in his own thoughts.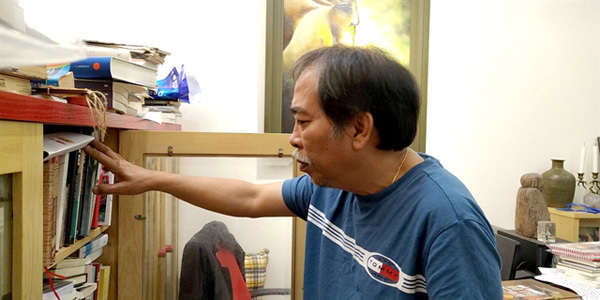 LIFE'S AIM: Poet Nguyen Quang Thieu has nurtured a dream to integrate Vietnamese literature into the literary world. VNS Photo Minh Thu
He was elected chairman of the Vietnam Writers Association in Hanoi in late November.
On this new assignment, Thieu expressed both happiness and unease.
"A high wall has appeared in front of me, as leading an association of more than 1,000 members nationwide is a huge responsibility," he said. "The workload involved is now all mine."
He is determined, though, to lead the association of writers into a new, more dynamic era. Though writing is an individual process, the association can awaken writers, honouring them and accompanying them in their creative endeavours.
"In a new era, we need stronger effort in content and topic and must candidly confront social problems," he said.
"Writers must be a breath of fresh air for the times, and work in line with the emotions of the people and the problems facing society. They should not only focus on major issues but also on little things perhaps not concerned before. Writers have to share such things with the people, and speak out about them." 
Taking Vietnamese literature to the world
As chair of the association, Thieu has been acting as a bridge linking Vietnamese writers with their foreign counterparts, and has organised many international literary events at home.
After having the opportunity to interact with a host of foreign authors from all four corners of the globe, he is proud that the name Vietnam resounds around the world for its unique, ancient culture and its struggle for independence and freedom. When the anti-American War ended, people rebuilt the country as quickly as possible. More importantly, Vietnam has now made friends with the world, including its former foes.
IMAGE OF A MAN: A self-portrait by Nguyen Quang Thieu. Not only is he a leading writer, he is also known for his skills in music and fine arts.
Many foreigners ask Thieu how life is in Vietnam, what people think, and how Vietnamese literature has been developed. This curiosity and concern increased when the words of writers and poets such as Bao Ninh, Nguyen Ngoc Tu and Mai Van Phan won international prizes.
"People ask me if Vietnam has other authors worth reading, and why so few works have been translated," he said.
He believes it is necessary to select works for translation that best represent Vietnamese literature, and these should be introduced regionally and then to the world.
Of course, this strategy needs support from state management agencies like the culture ministry's Publishing Department and International Co-operation Department if Vietnamese works are to appear at book fairs in Frankfurt (Germany), Bologna (Italy), London (UK), and Helsinki (Finland).
"We thought about setting up a website to introduce Vietnamese literature in English, or to publish a magazine in English," he said.
"We could introduce short stories, excerpts from popular works, or portraits of authors. Agencies would then be able to contact writers directly to exchange information on copyrights and arrange translations and publication abroad."
"COVID-19 resulted in many cultural activities being moved online, but even without the pandemic, something needed to change, because we are now witnessing an information explosion." 
Literature awakening compassion
With his many plans, some are worried that chairman Thieu won't be able to live completely in the world of art any longer.
But whether he works in management, writes poetry, or creates art, he said in response, his soul will always be seeking out beauty and life will always be a joy.
"The thing I perhaps regret the most is that many people don't recognise beauty, not that beauty has somehow disappeared," he said.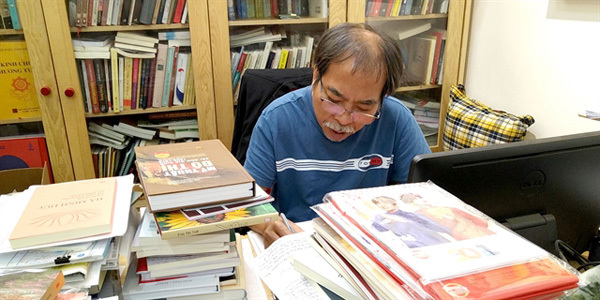 PROLIFIC OUTPUT: Nguyen Quang Thieu has penned a host of books, be they novels, short stories, or poems.
His biggest concern is the lack of emotion among humankind. A sensitive man, he recognises that people have become more and more selfish, more distrustful of each other, and more self-centred. In the family or at schools, pagodas, and temples, he said, much evil lurks.
It's not always the case, however. During a trip to Boston in the US, he visited an elementary school. On that very morning, a group of kids had discovered a nest full of dead fledglings. In sadness, they buried them in a corner of the garden, with a helping hand from the teachers.
"I was amazed by this ritual of humanity, a wonderful sign of compassion," he recalled. "When children love a tree or a small animal, they will love the entire world."
When the aim is to use literature to awaken humanity and spark compassion, he believes the best approach is to encourage children's literature, because it is a sanctuary for innocence.
"When a child is born, the adults around them change," he said. "The child is considered an angel, who came down to earth to remind us not to do anything inhumane in their presence, and the adults then become a better version of themselves."
The concept is actually based on Thieu's personal experience, as the birth of his grandchildren Mem and Kya gave him renewed inspiration to write. The kids made him think about what it means to be human, which was then reflected in his pages. The book that came out of all that is now being translated into Korean.
One time, a neighbour who worked as a motorbike taxi driver asked him about suitable books for his children. He has noticed since then that more and more parents have become interested in books for their kids, but he believes that children's literature still lacks the magic and artistry to win the hearts of young readers.
"Writers too easily fall into cliché and pack their books with too many messages about ethics and education," he said. "In my opinion, writers need to understand child psychology before they can create a world for children or speak the language of children. Once that happens, children's literature will find a wider readership."
Poet Nguyen Quang Thieu was born in 1957 in Ung Hoa District, on the outskirts of Hanoi, and as a young man studied foreign languages in Cuba. Nearly 30 of his works have been printed: poems, short stories and novels, some winning awards and some translated. In addition to writing, he is also known for his musical and artistic talent. VNS
Minh Thu  

Nguyen Quang Thieu was elected president of the Vietnam Writers' Association at the 10th conference held last month.