A two-day programme featuring cai luong (reformed opera) will be held on Book Street in HCM City on Saturday.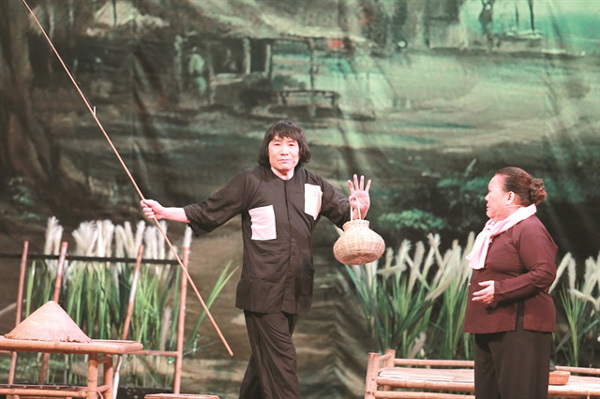 Dozens of artists, musicians and dancers will perform in the two-day programme Câu Chuyện Cải Lương: Thật và Đẹp (Beautiful and Real- An Oral History of Cải Lương) featuring cai luong (reformed opera) on Book Street in HCM City on Saturday. The event is part of a long-term programme launched by the British Council and its partners. Photo by Gia Tien
The event, Câu Chuyện Cải Lương: Thật và Đẹp (Beautiful and Real - An Oral History of Cải Lương), is part of a long-term programme on heritage launched by the British Council Vietnam and its partners.
It highlights cai luong and its performers of different generations who have contributed to the traditional theatre's development over 100 years, according to the organiser. The event will include a series of cultural activities and performances.
The opening night will feature performances staged by dozens of young and veteran performers and musicians, many of them working for leading State-owned traditional art troupes in the region.
Cai luong stars, such as Vo Thanh Phe and My Hang, will also be highlighted.
The artists will perform famous excerpts from historical plays that feature stories about the art's establishment and development.
Excerpts from Kim Vân Kiều, a cai luong play based on Nguyen Du's famous poem called Truyện Kiều (The Tale of Kiều) in the 18th century, will be included. The work is about the life and trials of Thuy Kieu, a talented woman who sacrifices herself to save her family.
The night will honour late People's Artist Phung Ha and late Meritorious Artist Thanh Nga, and veteran performers People's Artist Le Thuy and People's Artist Minh Vuong, both of whom have more than 50 years in the industry.
Vương performed and worked as a judge at Chuông Vàng Vọng Cổ (Nostalgia Golden Bell), a TV show on traditional theatre that aired on HCM City Television last month.
His art has left a very strong impression on millions of audiences in the city and the Mekong Delta provinces.
The 70-year-old has performed in several hundreds and TV shows and recorded albums in praise of Vietnamese culture and lifestyle in both traditional and modern styles of cai luong. His voice and performing skills are considered a standard of the art.
"Vuong and his colleagues make cai luong come alive," said theatre critic Thanh Hiep of Người Lao Động newspaper.
During the programme, Câu Chuyện Cải Lương: Thật và Đẹp, workshops and talks by cultural researchers and authors will be organised.
On Sunday, Vietnamese-American movie director Leon Le and actor Lien Binh Phat will share their work.
Director Le will talk about his first film, Song Lang (The Tap Box), winner of best feature film, best director and best actor awards at Sharm El-Sheikh Asian Film Festival (SAFF) in Egypt and Tokyo International Film Festival 2018.
Song Lang highlights the 100-year history and development of cai luong, a genre of traditional theatre in the South.
It features a group of cai luong artists in HCM City in the 1980s, focusing on the challenges they face to preserve their art.
The programme will start at 6pm on Saturday on Nguyen Van Binh Street. VNS
The tragic love story of Lan and Diep in a famous cai luong (reformed theatre) piece will be performed in Hanoi on November 23.

A new show called Cải Lương: Trăm Năm Nguồn Cội (Reformed Opera: A Hundred-Year History) will take place in HCM City next month.