The Da Nang International Fireworks Festival 2021 will be cancelled because the Covid-19 pandemic continues in many countries especially some Southeast Asian nations, an official has said.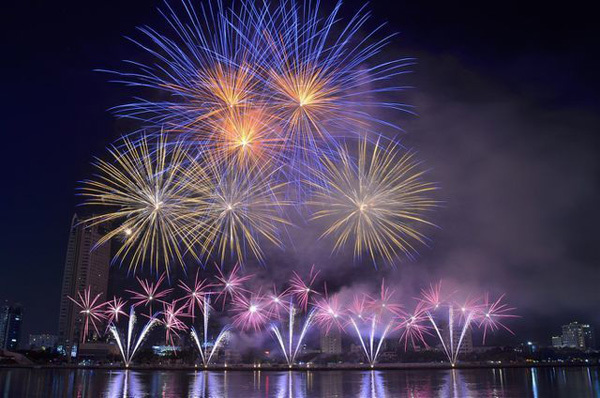 A firework performance at the Da Nang International Firework Festival.
The information was announced by chairman of Da Nang City People's Committee, Le Trung Chinh at a press conference held on April 26.

This is the second year the annual event has been cancelled as part of virus prevention efforts.

"Due to the ongoing pandemic which is becoming more complicated in some neighbouring countries, we will limit events with large numbers of people," the official said, adding that the city will also cancel the fireworks display planned for the coming Reunification Day Holiday on April 30.

Speaking at the conference, director of Da Nang Department of Health, Ngo Thi Kim Yen said that they are not receiving foreign tourists including those with vaccine passports at the moment.

"The Health Ministry has not given instructions about Covid-19 vaccine passports yet so we are still closed to foreign tourists," she said.

Meanwhile, director of the city's police department, Vu Xuan Vien, stressed that they are now focusing on quarantine activities for people returning from repatriation flights.

"Up to 85% of people returning from abroad to Da Nang have been sent to local hotels for quarantine," he said. "47 of them have tested positive for Covid-19, posing a big virus transmission threat."

The Da Nang International Firework Festival, which has been organised annually between April and July since 2008, has been suspended two consecutive years since the coronavirus outbreak. Last year, the event was scheduled to take place in June and July but then was cancelled due to the new coronavirus outbreak in the city.
Dtinews

Many festive and cultural activities nationwide to celebrate Tet (Lunar New Year) holiday will be suspended due to the rising number of community COVID-19 infections in the past week.