Dam Sen Cultural Park operated by Saigontourist Holding Company has organized the "Dam Sen By Night" program from 6 p.m. to 9 p.m. every evening since April 27.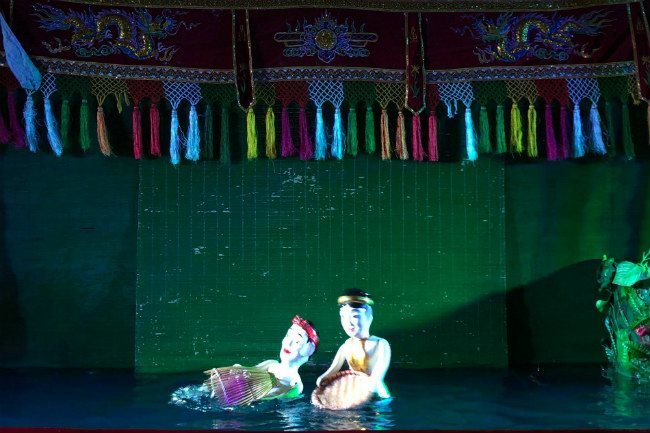 A water puppet show at Dam Sen Cultural Park - PHOTO: COURTESY OF SAIGONTOURIST
Running until September 2, the program offers exciting leisure activities in the evening to visitors in HCMC.
Giant 3D water screen
The program features art performances on a giant 3D water screen, which was made in Singapore and has been used at Marina Bay Sand in the country. With high-pressure sprinklers installed by Singaporean experts, the system takes water from Dam Sen Lake and sprays it to a height of 20 meters in the shape of a big mushroom with a diameter of 45 meters.
There are two shows per day, from 7 p.m. to 7:30 p.m. and from 8:30 p.m. to 9 p.m.
High-resolution films are projected on this 3D water screen, combined with four-way sound system that includes 12 speakers whose capacity ranges from 600W to 2,000W each. Each film lasts 30 minutes.
The first film is about people in the old days who had to face the harshness of nature when they fought against three monsters symbolizing water, fire and wind. In the end, dragons and phoenixes won over the three monsters and regained their peaceful life.
The second film tells about the journey of a gold carp from the north to the south to transform into a dragon. The fish passed the central region, the Central Highlands and the Mekong Delta. The journey allows audience to see beautiful landmarks in different regions of Vietnam, such as terraced fields in Ha Giang, Ha Long Bay, Hoi An Ancient Town, Ben Thanh Market, and floating markets in the Mekong Delta.
The third film, titled "I Love Vietnam", depicts Vietnamese people's love for football. The combination of 3D technique and 2D images is used to express the goals of Vietnamese football team.
Alta Media Company is in charge of the screening technology, while the scripts were written by director Nguyen Huu Thanh and the music was composed by musician Luu Thien Huong.
Aside from film screening on 3D water screen, photos of guests can be showed on the screen. There are two photo booths at Thuy Ta Restaurant and Roman Square, which offer guests the photo-taking service. Each photo costs VND40,000, including screening on the 3D water screen. In addition, they will receive a 15x10-centimeter photo of them with the 3D water screen on the background.
The 3D water screen is a complimentary service for guests booking wedding party at Thanh Sen Hall of Thuy Ta Restaurant. Moreover, companies and agencies can book the screen for their events.
Water puppet show
A 30-minute water puppet show is staged at De Men Stage at 7 p.m. every evening. Ticket price is VND50,000 per person, which is not included in the entrance ticket to the park.
Games
Areas of thrilling games and games for kids from the entrance on Lac Long Quan Street to the Roman Square are available throughout the program.
Food fair
The park organizes a food fair during the program, which is divided into two areas. The first one is located in front of Thuy Ta Restaurant, where popular street foods can be found, while the second one is in the Roman Square, serving set menus for groups of two to four persons.
There is also a lakeside area for guests to enjoy some coffee in the fresh atmosphere.
Tickets are VND120,000 for adults and VND80,000 for children under 1.4 meters tall before 6 p.m. and VND100,000 for adults and VND60,000 for children under 1.4 meters tall after 6 p.m.
Dam Sen Cultural Park is located at 3 Hoa Binh Street, District 11, HCMC.
Tel: 028.3.963.2483 – 028.3.884.1193
Website: www.damsenpark.com.vn
Anh Van
SGT