The Xposition 'O' Contemporary Dance Fiesta will for the first time take place at Soul Live Project Complex in District 3, Ho Chi Minh City from October 31 to November 2.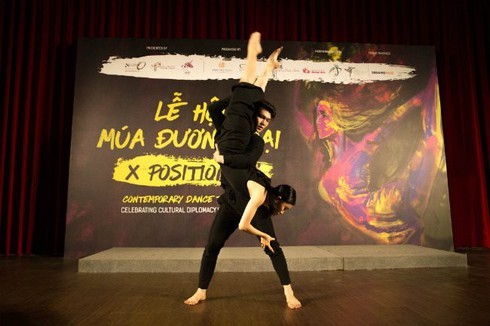 Two dancers perform at a press conference on the 10th Xposition 'O' Contemporary Dance Fiesta in HCMC

The 10th edition of the festival is jointly held by Odyssey Dance Theater and Saigon Contemporary & Ballet Dance Company (SCBC).
Adding the inspiration of daily life to each move of contemporary dance performances, Xposition 'O' has since 2001 become one of the largest dance festivals in Asia.
Based in the prestigious Odyssey Theater in Singapore, the festival has over the past 18 years received global support and special compliments from audiences and professionals through tours and cultural exchange events in countries such as Germany, Italy, the Republic of Korea, Laos, Thailand, and Singapore.
The ninth Xposition 'O' festival in Singapore in 2017 attracted 48 artists and eight companies from 20 countries.
The first Xposition 'O' festival in Vietnam will showcase world-class performances and international cultural exchanges with the participation of famous dancers including Dr. Danny Tan, art director of Odyssey Dance Theater, ODT international art troupe, and South Korean choreographers Sun See and Pyoung Su.
Various Vietnamese contemporary dance companies are also offering high-level performances through their famous artists such as choreographers Do Hai Anh, Ha Loc, and Nguyen Phuc Hung, H'mong artist Sung A Lung, and dancer Mai Trung Hieu.
Addressing a press conference on the event in HCMC on October 29, art director of SCBC Vietnam Do Hai Anh said, "Currently in Vietnam, there are not many contemporary dance activities, so dancers have little chance to exchange experiences. This is an opportunity for Vietnamese artists to interact, exchange and learn from foreign directors, choreographers and dancers."
Regarding the decision to bring the 10th Xposition 'O' festival to Vietnam, Danny Tan said, "The future development direction of this cooperation is to develop talent of artists and professional dancers in Vietnam and to create cultural exchange environments between Singapore and Vietnam. In particular, I would like to support Do Hai Anh and SCBC Vietnam's dancers to introduce Vietnamese dance talents to the world, starting with Singapore".
The Xposition 'O' festival in HCMC will begin with a master class and international workshop on October 31, followed by an international contemporary dance night on November 1, and a Vietnamese contemporary dance night on November 2. SGT