Vietnam's painter Dang Viet today starts an exhibition inspired by the historic Long Bien Bridge at the VICAS Center for Assistance and Development of Contemporary Arts (VICAS Art Studio) in Hanoi.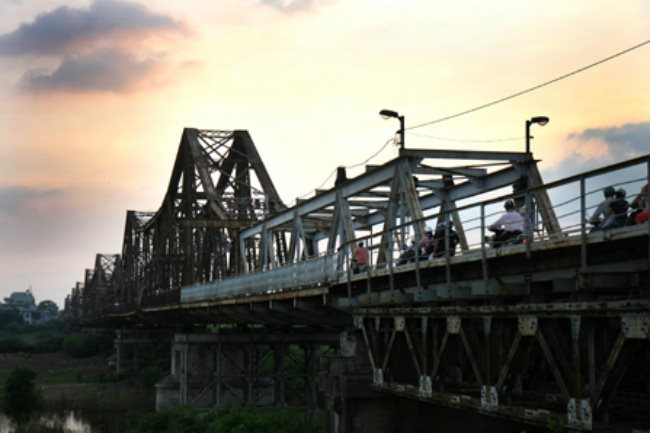 The historic Long Bien Bridge is the theme of painter Dang Viet's exhibition - PHOTO: VNA
The "The Bridge" show features introduces 29 works by Dang Viet, with 10 of them featuring Long Bien Bridge.
Long Bien Bridge, a French-built masterpiece, has existed for hundreds of years in the capital. Although it was heavily damaged by American bombs, the silhouette of this bridge and the love of the Hanoians for it have remained unchanged. It has always been a beautiful symbolic image for the integration of Vietnamese culture with Western civilization.
The 10 paintings by Dang Viet about Long Bien Bridge present different emotional expressions by a Hanoi artist when standing in front of the bridge. The artist expresses the original great spirit of the bridge, which connects art and culture of the East and the West.
That spirit is vividly conveyed in a painting language, which is a harmonic combination between the specific and the symbolic, the reality and the abstract, traditional materials and modern expressions, black and other colors, strokes and plates, shapes and blocks, and western and eastern painting perspectives.
Dang Viet did not limit himself to expressing a specific bridge but went further on other subjects such as toads, trees and abstract works. Whatever the subject is, his artistic style keeps focusing on the interaction and harmony between the East and the West.
The exhibition offers free admission and runs until May 20.
Long Bien Bridge was built from 1899 to 1902 by architects of Paris-based Dayde & Pille company, and opened to traffic in 1903. Measuring 2.4 kilometers in length, it was then one of the longest bridges in Asia.
The bridge now connects Hoan Kiem and Long Bien districts of Hanoi. SGT