The national football league schedule has been finalised after a delay made last month because of the continuing novel coronavirus epidemic.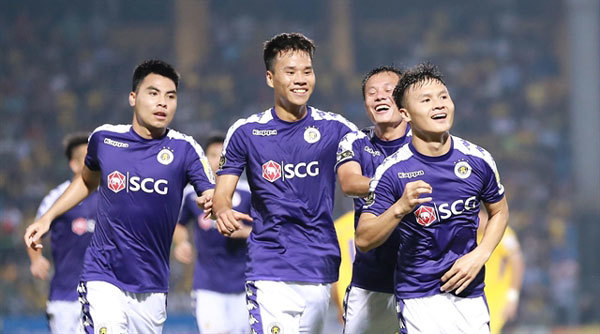 V.League 1 champions Hanoi FC will play National Cup runners-up HCM City on March 31 in the Super National Cup match after being rescheduled by organisers. — Photo vnreview.vn
The Super National Cup match between V.League 1 champions Hanoi FC and the National Cup runners-up HCM City will be held on March 1 at HCM City's Thong Nhat Stadium.
The V.League 1 will begin on March 7 and end on October 24. The V.League 2 will kick off on March 14 and wrap up on September 9. The National Cup will be organised from April 3 to October 31.
According to the Vietnam Football Federation (VFF) General Secretary Le Hoai Anh, the postponement of the leagues strongly affected the federation's plans for national teams and other projects.
However, the VFF would do its best to minimise and overcome difficulties.
"Safety and people's health are priorities at this time. We knew that the delay would not only influence the federation but also clubs. However, we need to show our responsibility to the community and help prevent the virus spreading widely," said Anh.
The coming season will see changes in the rules including with regard to handballs, free kicks, penalties and dead ball time, which the Asian Football Confederation introduced last August but Vietnam have not applied because it was in the middle of the domestic season. — VNS

The coronavirus outbreak has affected Vietnam's sporting schedule as plans of several teams have been changed.

Head coach Park Hang-seo will have some hard decisions to make ahead of the national team's next World Cup qualifier against Malaysia due to the spread of the deadly new coronavirus.