A music night dedicated to legendary musician David Bowie will take place at Hanoi Rock City (HRC) on Saturday.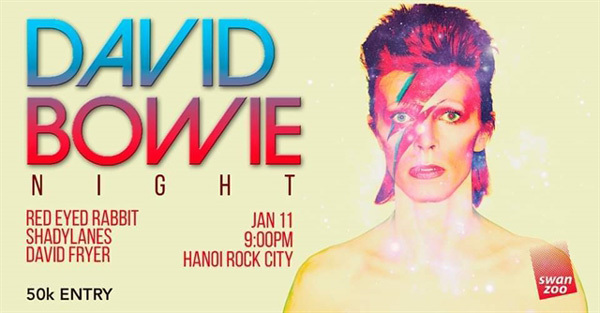 Bands and singers will cover Bowie's songs so the music of the widely loved singer of all time will be played throughout the night.
During the night, which starts from 9pm, bands and singers will cover Bowie's songs throughout the night.
The night will begin with the performance of Urban Orangutan, aka David Fryer, who has been building a miniature 'armament' – his signature tiny guitar has been joined by a tiny FM synth and a tiny drum machine.
Following, the stage will be dominated by Shadylanes – a band consisting of members from South Africa, Australia and New Zealand. The group draw on influences from their home countries, creating a stylistically-eclectic, indie band that spans rock, pop, reggae and funk.
Last will be the performance of Red Eyed Rabbit – an alternative rock band based in Hanoi, whose music is influenced by from '60s psychedelia to punk rock and '90s indie music.
The entrance fee is VND50,000. HRC is at 27/52 To Ngoc Van Street, Tay Ho District. — VNS

Irish alternative rock band Kodaline will debut in Hanoi at the Monsoon Music Festival on November 1.