There will be nine different categories in the 2021 Dedication Music Award including 'Singer of the Year', 'Producer of the Year' and 'Song of the Year', the organisers have confirmed.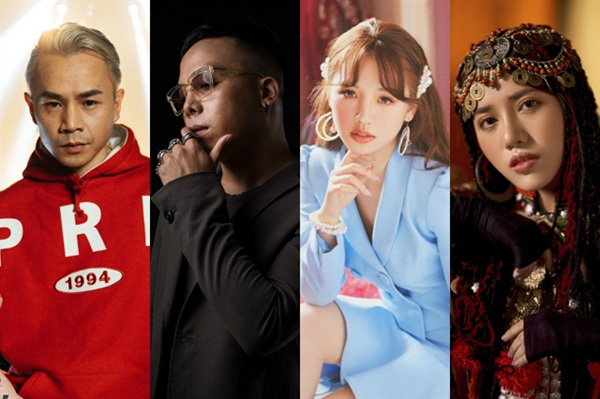 Binz, Touliver, AMEE, Phung Khanh Linh are nominated in the Dedication Music Award 2021. Photo billboardvn.vn
In the producer category, Duong Cam, Touliver, Huy Tuan, Hua Kim Tuyen, Nguyen Huu Vuong, and Luu Quang Minh are nominated.
While Duong Cam is famous as music director of the Bandland Project on YouTube and Band Fest live show in Hanoi, Touliver has received a lot of recognition for producing one of the year's most outstanding TV shows in Rap Việt.
Former Vietnam's Got Talent judge, musician Huy Tuan, is nominated for his music director role in Music Home.
Being part of the main production team of Amee, one of the country's top young singers, helped Kim Tuyen get into the final list.
The list also includes Huu Vuong and Quang Minh who played an important role in the making of singer Tung Duong's album Human.
The five nominations for the 'Song of the Year' include Cơn Mưa Tháng Năm (May Rain) composed by Tran Lap and Tran Tuan Hung, performed by Tung Duong and Tran Lap and Hoa Nở Không Màu (Flowers Bloom Without Colour)," written by Nguyen Minh Cuong and performed by Hoai Lam.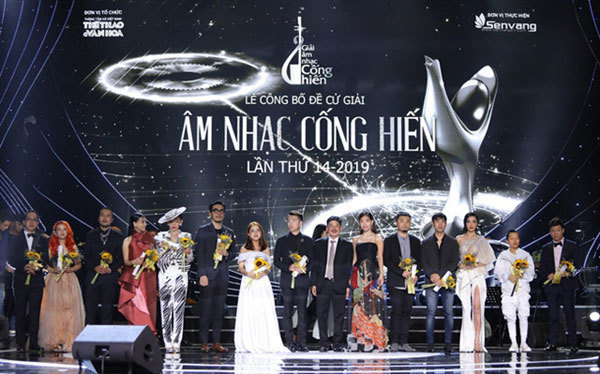 Dedication Music Award, organised by Sport and Culture Newspaper, is considered the "Grammy of Vietnam". Photo yan.vn
2020 was a successful year for rapper Binz and the song he composed and performed OK is also nominated, alongside Sau Này Hãy Gặp Lại Nhau Khi Hoa Nở (Let's Meet Again Later When Flowers Bloom), composed by Rinnie Blue and performed by Nguyen Ha, and 2 Phút Hơn (2 Minutes Longer), composed and performed by Phao.
'New Artist of the Year' has four new faces, namely De Choat, the winner of Rap Việt, ICD, the winner of King of Rap, Tran Duy Khang of the band Chillies and rapper Phao.
The Dedication Music Award is organised by Thể thao & Văn hóa (Sports & Culture) newspaper of the Vietnam News Agency.
A full list of nominees can be found on the thethaovanhoa.vn website. VNS

De Choat named as the winner of the first season of Rap Viet competition seeking talented rappers which ended in HCMC on November 14.

Singer AMEE has released a new music video titled Sao Anh Chưa Về Nhà (Happy at Home) to call people to stay home to prevent the spread of COVID-19.