Vietnamese designer Do Trinh Hoai Nam is to introduce his Ao Dai collection during the ASEAN Fashion Festival which will be held as part of ASEAN Week 2019 in Seoul, the Republic of Korea (RoK) on June 15.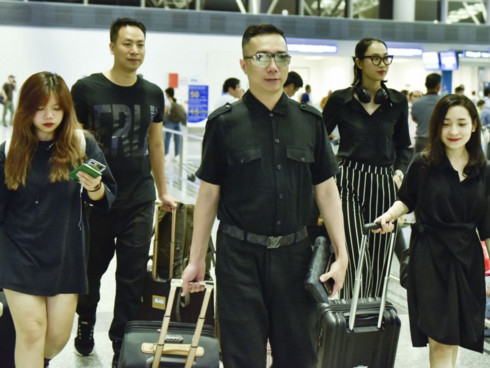 Designer Do Trinh Hoai Nam (third from left) at the airport
The event will commemorate the 30th anniversary of relations between ASEAN and the RoK. ASEAN Week 2019 will feature a variety of events, including the ASEAN-Korea Music Festival which will take place on June 14, the ASEAN Fashion Festival which will be held on June 15, and ASEAN Travel Talk on June 16.
Hundreds of designs by representatives from 10 ASEAN member countries will be showcased on stage during the ASEAN Fashion Festival.
Designer Hoai Nam is set to debut his Ao Dai, a Vietnamese traditional long dress, collection which will feature hand-made embroidery patterns and silk materials during the festival. The unveiling is expected to leave a positive impression on viewers.
Quang Tu, a famous stage director, and Thuy Tien, who finished among the Top 5 at Miss Vietnam 2018, are accompanying designer Hoai Nam to the festival.
Hoai Nam has spent over 30 years working in the fashion industry, and has made a great contribution to promote the Ao Dai to a worldwide audience.
His Ao Dai collections have been introduced at many major events such as Vietnam Fashion Week Spring Summer 2016, Hanoi Ao Dai Festival 2016, Hue Ao Dai Festival 2017, New York Couture Fashion Week, Designers Association of ASEAN Fashion Designers, and Paris Fashion Week - Haute Couture 2018. VOV