Star defender Doan Van Hau is the first player to leave the Vietnamese national football team during the preparation for the third qualifying round of the 2022 World Cup due to injury.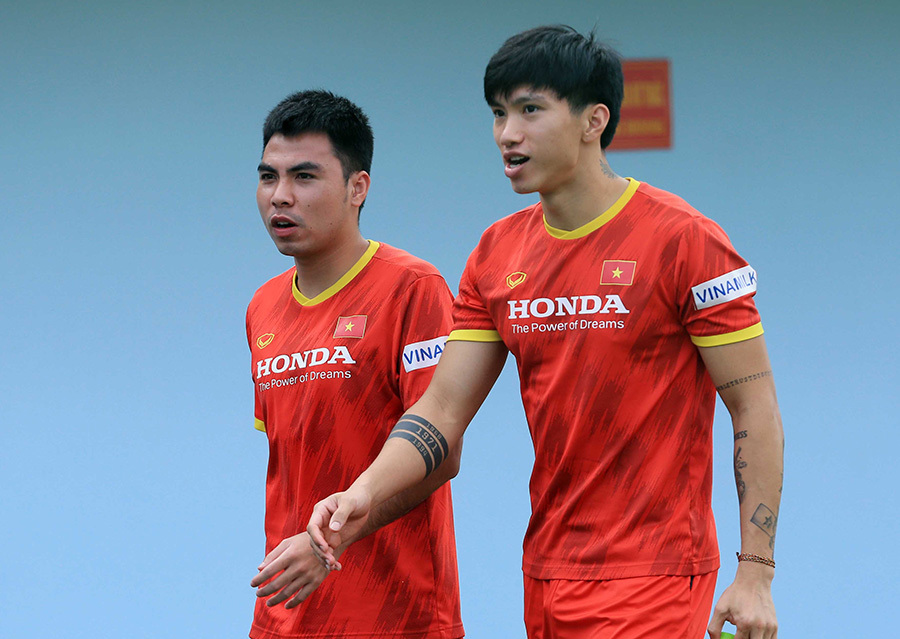 Doan Van Hau (right).
The team's head coach Park Hang Seo decided to let the 22-year-old player return to his Hanoi club for further treatment and recovery. Thus, the talented player will not join the Vietnamese team to play against Saudi Arabia on September 2 in Saudi Arabia and against Australia at home on September 7.
According to medical experts, Hau is recovering very well but he still needs more time to resume normal training. The defender of Hanoi FC will need definitive treatment to be the "savings" of the Vietnamese national team as well as the U22 team.
Hau suffered a knee meniscus injury during the second qualifying round of the 2022 World Cup in the United Arab Emirates.
Previously, the Hanoi FC defender was part of the national team squad that met on August 5 to prepare for the two matches in September against Saudi Arabia and Australia.
However, due to the injury, he had to practice privately with the team doctors during the whole time without any official training with other teammates.
Beside Hau, Tran Minh Vuong and Nguyen Thanh Chung are also seriously injured.
The Korean coach has decided to summon three additional players to the national team, including defender Tran Van Kien (Hanoi Club), midfielder Nguyen Trong Dai (Viettel Club) and striker Nguyen Xuan Nam (Binh Dinh Club).
However, the main replacement for Hau on the left side will be Vu Van Thanh. The Hoang Anh Gia Lai's right-back has been playing in Hậu's position in recent training sessions.
Before leaving for Saudi Arabia on August 26, coach Park Hang Seo will eliminate 5-6 players and before the opening match against the host, he will close the list of 23 players to register with the organizing board.
Dai Nam