A docudrama entitled Ả Đào (Songstress) on ca trù (ceremonial singing) folk music will be made this year. The film crew includes scriptwriter Bui Trong Hien and director Nguyen Trung Thanh.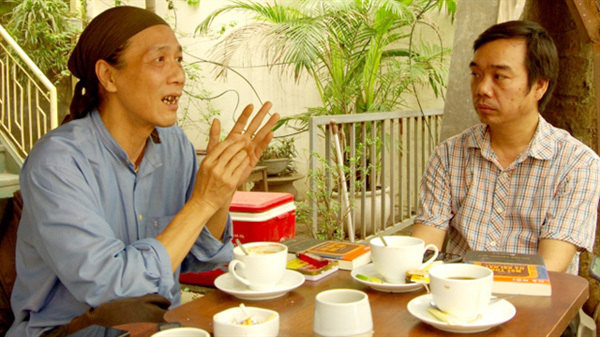 Music researcher Bui Trong Hien (left) and director Nguyen Trung Thanh. Photo thethaovanhoa.vn
Hien is known as a folk music researcher and this is his first filmmaking venture. 
Thể Thao & Văn Hóa (Sports and Culture) reporter Cuc Duong chats with Hien about the docudrama. 
Why did you write a script for a docudrama?
I like documentaries. Factually, shooting is a part of my research. So I had the materials and sources to write and complete the script in one month. 
I want to explain a little about the name of the film Ả Đào. When I joined the team contributing a dossier to UNESCO on Intangible Cultural Heritages in Need of Urgent Safeguarding in 2009, we wanted to use this word to replace the phrase "ca trù". 
Ả đào singing was the early name of ca trù in history. 
I think that it is rare anywhere in the world that a word meaning songstress is used as the name of a music genre. 
It's a pity that we chose the word "ca trù" because the word "ả đào" used to be attached to negative perceptions. But "ả đào" carries countless cultural and historical values as well as social stories.  
Could you tell me more about ả đào?
At the end of the 19th century, there were many places where ca trù was performed in urban areas. This music genre had been booming for more than 50 years. 
It was the first model of chamber music in Vietnam. Songstresses and musicians went to perform in urban areas and made a living with their job. It proves that ả đào singing was a top profession. 
Ả đào singing was popular with the close relationships between the songstresses and Hanoi's renowned writers and artists. These relationships were the themes of many literary works. 
At that time, it was said that the songstress was a "nanny" inspiring the writers and the artists. Any person would become a writer or artist when watching an ả đào performance. 
Thus, ả đào singing became a significant part of Vietnamese culture and history in the first half of the 20th century. 
Notably, the most important thing at that time was that the women were independent in their work and lives. It goes against the Confucian value of male chauvinism. I think it was a gender revolution.  
Why did you focus on the 1940s?
A decade is enough to generalise the top stories about songstresses in the past. 
The stories tell about the ups and downs of the career and the songstresses' quiet and meaningful contributions to the national resistance in 1946. 
We must remember Van Cao's poem entitled Ngoại Ô Mùa Đông (Rural Winter) about these songstresses who sang and died in battle in Hanoi in 1946.
I shed tears when I wrote this part. These women were willing to stay with the capital defenders to fight and protect the capital. The only reason was their love for Hanoi. 
They were forgotten for a long time.  
Why did it take you four years to make the docudrama?
I just wrote for myself and didn't think about making it. When I finished writing, a company asked me to make a musical film. But I didn't like that idea. 
I have a close friend, Nguyen Trung Thanh, director of BIBI Communication Company. We have worked together on ả đào programmes. He likes this music genre very much and he decided to make the docudrama with my script. 
Without the support and encouragement of my friends and colleagues, the script would probably still be on paper.
I received a lot of support in making the trailer, costume design and acting without payment from my friends and my colleagues. 
Could you tell me about the casting process?
It is a docudrama but we made it with motion picture techniques. The docudrama will have some scenes featuring Hanoi artists and writers such as Nguyen Tuan, Khai Hung, Tran Tieu, Thach Lam and others coming to Kham Thien Street to listen to ả đào.
We will have to find actors who look like them to film. We invited journalist and writer Nguyen Truong Quy to play Vietnamese national anthem author Van Cao. 
Writer Tran Tieu's great-grandchild Tran Hoang will play his great-grandfather. 
I had never thought about becoming a professional scriptwriter. My friends said that I had researched too much about ả đào and it was time to share with people.  
VNS

People in the northern province of Hung Yen are working diligently to revive the golden days of Ca Tru ceremonial singing which has been recognised as a Masterpiece of Oral and Intangible Cultural Heritage by UNESCO.

Vietnamese 'ca tru' (ceremonial singing) was honoured by Google Doodle, a special and temporary alteration of the logo on Google's homepage, on the occasion of the art form's Founders Commemoration Day (February 23).