Nguyen Hai Yen is one of 50 new members of the Vietnam Writers Association. She is a secondary school teacher in the northern province of Hai Duong and started writing in earnest in 2016.
Her short story collection entitled Quán Thủy Thần (Water Deity Inn) earned her the association's Literature Award 2019. VNS speaks with Yen about her career.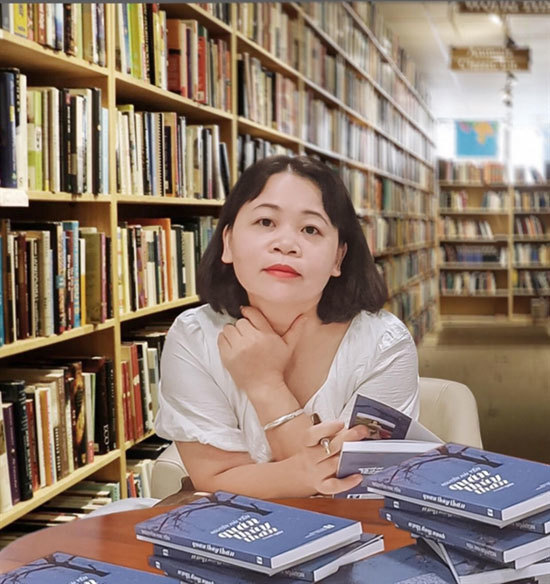 Nguyen Hai Yen.

How did you become a writer?
I was born and grew up in a poor rural area of Thanh Mien District, Hai Duong Province. At the age of 14 I left the village for various reasons.
I didn't have many chances to go back to my hometown for many years. But my homeland was always in my mind. Every time I remember it rural memories rush back.
I went to school and started working as a teacher at a secondary school. I had to work hard without a day off. But I read books whenever I had free time.
I began to use Facebook at the end of 2015 and started writing posts about my homeland. My friends encouraged me to write more. This forced me to think seriously about writing. I wrote the first short story in March 2016.
My mother inspires my writing. She works for the district People's Committee. She often took my sisters and I walking for hours through paddy fields to buy books. During summer holidays she brought us to the district library during the day. I remember there were very few new books but a lot of old books which had been eaten by termites.
We liked reading books and learned to write through books.
You said that you are busy with teaching. How did you find time to write?
Like other women, I am busy at school and at home. I write during tea breaks or late at night. Generally, I have to complete my teaching first and then write.
Sometimes, I feel sad because some people around me don't understand my passion. They don't sympathise and they think I am not practical. But I think literature came to me as fate and I have to follow it with all my heart.
What does literature mean to you?
I have loved literature from a young age. I think that literature and other arts are a source to nurture the human soul to become rich, deep and compassionate.
I love literature and I teach literature to fulfil part of my dream so many young people will also love literature. I hope literature can help young people discover the beauty hidden deep in language, conveying the meaning of life and joy of being human.
It is really difficult to do this. But it has drawn me in. Writing is more engaging but also more difficult. Teaching literature is enjoying literature with students whilst writing is creating a source of enjoyment.
Teaching literature is talking to dozens of people and writing is 'talking' to many readers. So I tell myself that I have to keep trying. I read a lot because my friends are mostly writers. I respect all books.
There are many books to be printed. Everyone can print a book but there are fewer readers. Sometimes, at a seminar, I am the last one leaving and see books forgotten by participants.
Do you think about your readers when you write?

My readers come in two types. One including my mother likes humour literature and the other likes mystery style. I have tried many ways of writing and I find my forte in these two types of writing.
Many authors have written about northern rural areas. How does your work stand out?
When I began writing I knew that I was a grain of sand in the desert. How does a sand grain have its own voice? It is a concern and also a dream not only for me but for all writers.
Many writers have books on the northern rural theme. How could I be recognised among them?
I make good use of informal speech which is casual and relaxed. Informal speech comes from folk culture. It is very attractive and should not fade away.
Can you tell us anything about your next book?
I'm writing about ghost stories which are handed down from generation to generation in northern rural villages. I will recount them in a new way to convey messages of modern times.
I will try to preserve the distinct and pure countryside identity. It is a way to preserve the cultural and spiritual values through the harsh changes of time. VNS
Nguyen Binh

With only two weeks before the new school year, students and their parents are rushing to purchase new clothes and supplies.

The latest figures for Vietnam's population stand at 96,946,894, 35.92 per cent of whom live in cities.