SiaM Vol. 8 aims to bring viewers back to the root of Baroque music in Italy during the early 17th century, thus the name for Vol. 8 is "il Barroco" or Italian Baroque.
MUSIC & PERFORMANCES
Baroque concert to be held online
June 14, 8pm
A free online concert entitled SiaM Vol. 8: Il Barroco.

SiaM Vol. 8 aims to bring viewers back to the root of Baroque music in Italy during the early 17th century, thus the name for Vol. 8 is "il Barroco" or Italian Baroque.

Featuring different compositional styles for various instrumental combinations by notable Italian Baroque composers such as Domenico Scarlatti, Antonio Vivaldi, Domenico Gabrielli and Giuseppe Tartini. The programme also includes the famous keyboard concerto in F major by J S Bach which captures the Italian spirit.

By artists Nguyen Duy Long (bassoon), Hsin-Chiao Liao (piano), Phan Do Phuc (cello), Patcharaphan Khumprakob (viola), and Hoang Ho Thu (piano).

The event will be broadcasted on Zoom and the Schubert in a Mug Facebook page at: https://www.facebook.com/SchubertinaMug
EXHIBITION

"Children draw Hanoi" paintings on display
June 1-15

More than 80 artworks by young painters aged from four to 13 years old are on display via Facebook. The topic of the paintings focuses on Hanoi, including streets, the old quarter area, architecture, food, intangible cultural heritages, and the COVID-19 pandemic.

The paintings can be watched at: https://www.facebook.com/groups/1833599063528127/permalink/3067037603517594/

Hanoi Library displays documents on President Ho Chi Minh
Until June 17

Hanoi Library

Featuring more than 400 documents and newspapers about President Ho Chi Minh and his great contributions to the Vietnamese revolution, and his role in international communist and worker movements.

The works are also introduced on the website of the library.

A virtual book fair and exhibition is also underway at www.book265.vn to mark the 110th year since President Ho Chi Minh left Vietnam to go on a journey around the world to seek ways to save the nation.

Vietnam to host first national cultural heritage photo contest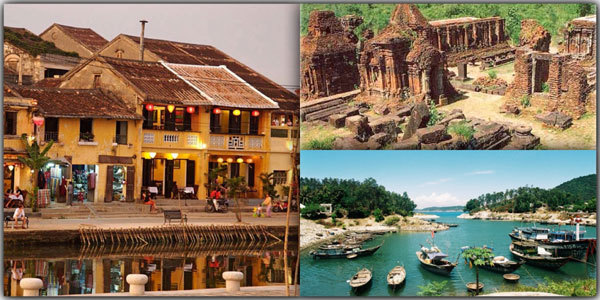 Until November

A national cultural heritage photo contest and exhibition to raise awareness of heritage conservation within the local community.

Competitors are able to submit their entries detailing various aspects of Vietnamese heritage, including local historical and cultural sites, architecture, art, and enthralling scenic spots.

The most outstanding artworks will then be selected for a photo exhibition.

The event is being organised by the Ministry of Culture, Sports and Tourism as part of activities in the lead up to Vietnam Cultural Heritage Day on November 23.

HCMC-A Dream Of The End At The End Of A Dream
Apr 27-June 26, Tues – Sat, 10 am – 7 pm
Galerie Quynh, 118 Nguyen Van Thu, D1

From the organizer:

An exhibition by Tuan Andrew Nguyen and Wowy. This is their second with the gallery, the latest in a wide range of collaborations since 2008's Quiet Shiny Words/Cultural Doppelgangbangers, where the artists explored subcultures in the contexts of Vietnam and America.

Binh Dinh Province-Exhibition: ECO-SUS
Opening: Apr 8, 03 pm
Exhibition: Apr 8 – Aug 8
International Centre for Interdisciplinary Science and Education, 7 Science Avenue, Quy Nhon City, Binh Dinh Province

From the organizer:

Featuring 11 Visual artists across Vietnam.

ECO-SUS is curated by artists The Son and Uu Dam, opening along with Winter School for Sustainable Development with 100 excellent fellows and respected speakers organized by Danh Nguyen. ICISE, a European-style building inspired by Binh Dinh nature, situated in the heart of a 21 hectares valley surrounded by majestic mountains and a long yellow sand beach. A remarkable architecture design by the famous Jean François Milou. See you at this fascinating exhibition.

The thrilling ECO-SUS exhibition will take place on the beach at 3 PM on April 8th:
1. 03 pm – Warm-up, kick start with with a viral and ambitious artwork from ECO-ĐI by artist Nguyễn Trần Ưu Đàm on Quy Nhơn yellow sand beach to raise global awareness about the pollution.
2. 04 pm – Opening exhibition of 11 Vietnamese artists with their world-class artworks. Curatorial tour lead by artist/curator Thế Sơn
3. 04:30 pm – "Chula" Fashion show by designer Del Valle Cortizas Diego.

4. 09 Apr – Explore Làng Sông, an old monastery, a beautiful structure that built and stood for 158 years, listen to singing hymns, visit publication in the very historic place where Jesuits record the first Vietnamese sounds in Latin.
Source: Dtinews/Hanoigrapevines