Hanoi-Exhibition: Those who do not move, do not notice their chains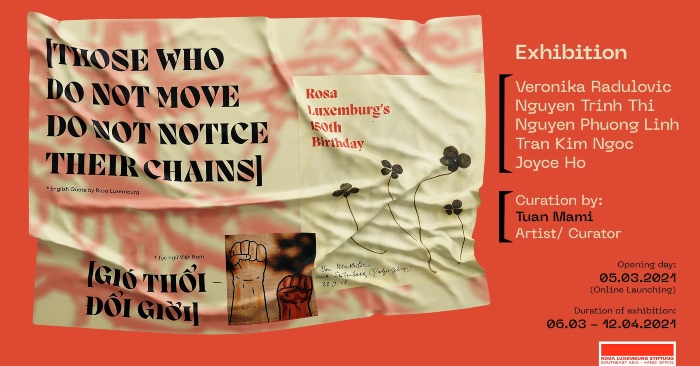 Opening (online launching): Mar 5
Exhibition: Mar 6 – Apr 12
8C, 76 To Ngọc Van Street

The idea of this exhibition is built upon Rosa's inspiration and her revolutionary theory, to keep the link between people whose are always trying to contribute their life for humanity and whose always act to make society be better.

This special showcase brings 5 thoughtful, sensitive, revolutionary, powerful female voices, who have been contributed greatly to our society and our culture by their arts and activities.

The 5 artists come from different back-grounds, different societies, and different generations. They will be creating a dialogue to discover different aspects of our lives and constantly 'Reform' to follow the changes of life. To 'Reform' is to question what our history is presenting about, to question to those powers which exist in our society through politics, social hierarchies, classes, and to search for the better society or suitable environments.
Hanoi-Online exhibition featuring shared culture of Vietnam, Australia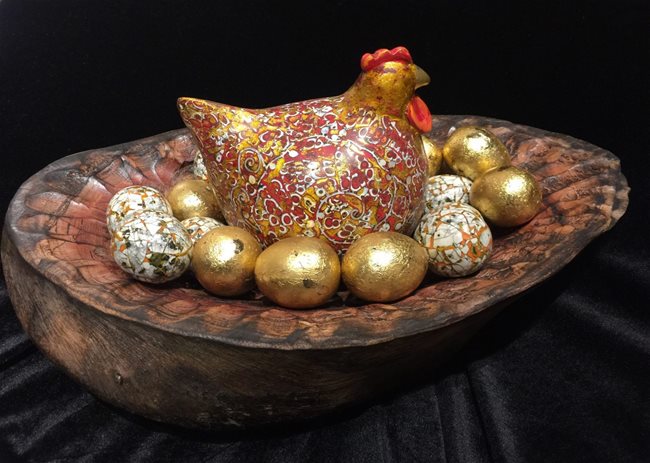 Until March 12, 2021

An online exhibition, the "Skilled Hands, Shared Culture" featuring 20 contemporary Vietnamese and Australian designers, artists and artisans whose work contributes to supporting vibrant and sustainable communities.

The Vietnamese artists joining the exhibition comprise Le Giang, Nguyen Tan Phat, Nguyen Thi Dung, Nguyen Van Loi, Pham Thi Ngoc Tram, Vu Kim Thu and Van Ngo Trong, while their Australian counterparts consist of Claire Tracey, Grace Lilian Lee, Lindy de Wijn, Michelle Hamer, Muhubo Salieman, Slow Art Collective, Vermin, Vicki Couzens, Vipoo Srivilasa, Yu Fang Chi and Kieren Karritpul.

The exhibition runs until March 12, 2021, at https://rmitgallery.com/exhibitions/skilled-hands-shared-cultures.
HCMC-Exhibitions: 'Within / Between / Beneath / Upon' & 'Home: Looking inwards to the outer world'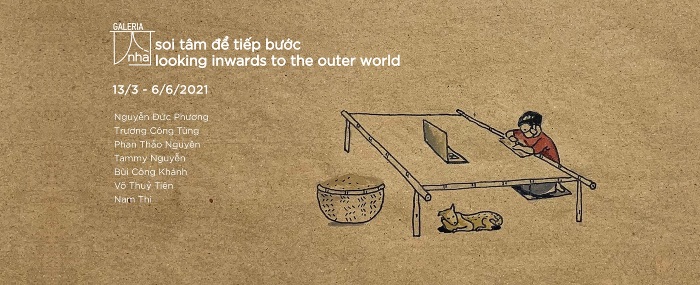 Mar 13 – Jun 6, 10 am – 07 pm
The Factory Contemporary Arts Centre, 15 Nguyễn Ư Dĩ, Thảo Điền Ward, D 2,

The Factory Contemporary Arts Centre proudly presents two exhibitions: 'Within / Between / Beneath / Upon' and 'Home: Looking inwards to the outer world'.
HCMC-Exhibition: Art and Peace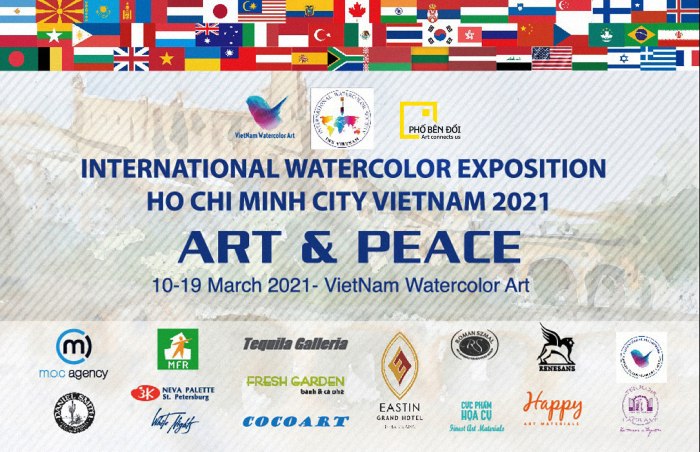 Opening: Mar 10, 6 pm
Exhibition: Mar 10 – 19
Vietnam Watercolor Art, 187 Lê Văn Sỹ, Ward 14, Phú Nhuận District,

Featuring 60 paintings of artists from 17 countries around the world: France, Japan, Holland, Iran, Bulgaria, Spain, Mexico, Italy, Thailand, Vietnam… has participated. These are the paintings that were selected among more than 300 paintings exhibited in Albi, France in October 2020. 
HCMC-Saigon Interplay Exhibition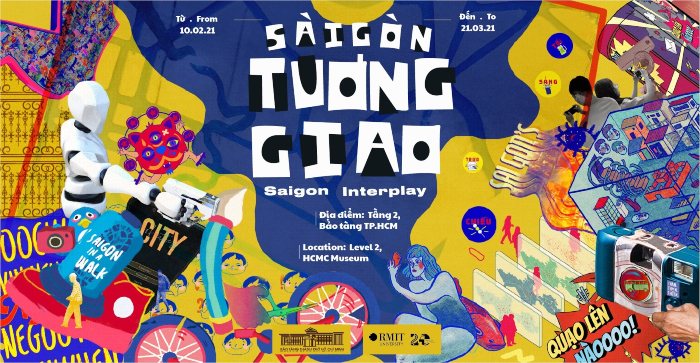 Until Mar 21, 8 am – 5 pm
Museum of Ho Chi Minh City, 65 Ly Tu Trong Street, Ben Nghe Ward, District 1,

A 3-month project work of 26 design students at RMIT University about the potential transformation of Ho Chi Minh City through the collaboration of the city, Museum of Ho Chi Minh City and a variety of unique communities in Ho Chi Minh City together.
The exhibition offers 22 different ideas presenting through different mediums including conceptual models, videos, photographs that provide a unique experience for visitors. Come and explore with us! 
___________________________________________________________________________________
CINEMA
Screening of seven French movies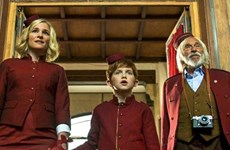 Mar 1-Dec 31
Featuring seven classic and modern French movies.
The films will be screened in 10 cities and provinces nationwide, including Hanoi, Hai Phong, Thai Nguyen, Nghe An, Ha Tinh, Lao Cai, Thua Thien-Hue, Da Nang, Ho Chi Minh City, Da Lat, and Can Tho.

Screenings will only take place once the COVID-19 pandemic has fully been brought under control in localities.
Dtinews/Hanoigrapevines