People go out dancing for all sorts of reasons, but probably the single biggest draw to the tiles is a chance to escape.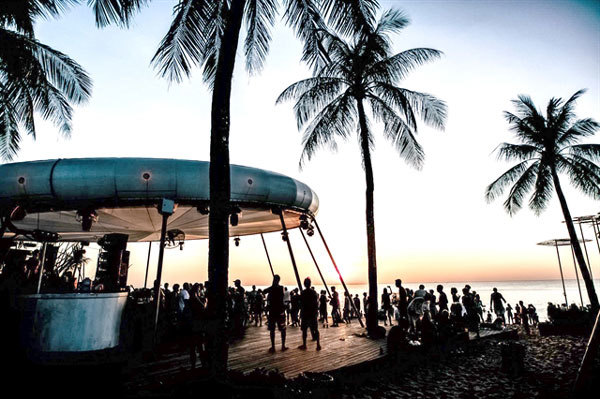 SUN DOWN, SOUND UP: Sunset DJ sets are always eagerly anticipated at the festival each day. Photo courtesy of the organisers

Whether it's from the stresses of the working week, the pain of a failed romance or despair at prevailing political sentiment (and there's a lot of that to go around these days), we all have our reasons for throwing off all our cares and busting a move, if only for a few hours.
So Epizode festival, an 11-day long dance music extravaganza jam-packed with some of the best DJs on the planet on the white sands of a beautiful beach, may seem like just another chance to forget it all and party until you forget what ails you, or even your own name.
And it may well be for some revellers, but in its fourth year now, the people behind Epizode are working to ensure their party means that much more.
More than a party
Running from December 27 this year until January 7, 2020, the music and arts festival is returning for its fourth consecutive year to Phu Quoc Island in southern Vietnam's Kien Giang Province.
Each year, Epizode brings some of the world's top DJs to Vietnam, and this edition is no exception, with the likes of British Hessle Audio co-founder Ben UFO, Chilean-German groove master Ricardo Villalobos and Italian composer and multi-instrumentalist Giorgia Angiuli, to name but three of the more than 100 performers.
On top of that some of the region's top tastemakers and DJs will also perform, ensuring there's ample opportunity for dancing, imbibing and pure, unadulterated end-of-year hedonism for the thousands of attendees, whether they be Western or some of the ravers from across Southeast Asia and indeed the continent at large who will make the trip to Sunset Sonata Beach Club.
Natasha Rogal, Epizode's CEO whose background is in Russian and international media, is the woman largely responsible for that opportunity to party, but she's also conscious of bringing more than a good knees-up to Phu Quoc.
Rogal told Việt Nam News that while the festival may be mostly Western-run and that brings clear differences in mentality between Epizode and local partners, the organisers are conscious of the importance of bringing true value to the local community and not just parachuting in for the festival.
"When you come to the same market for the 10th time and greet sellers as good friends, the situation transforms.
"For me at the moment, this is an extremely important and energy-consuming process that has already shown its results.
"But this is connected not only with the desire to optimise costs - it is extremely important for me to be a significant event in the life of the country, in that part of life that is responsible for tourism and entertainment.
"It is important to work with local partners, to attract local people to work at the festival," she said.
Rogal and co have put their money where their mouth is and recently announced Epizode's eco partners, comprising four Vietnam-based groups that work to protect the environment.
The collaborations aim to reduce the festival's ecological impact on Phu Quoc, a welcome initiative after the first edition attracted criticism for a mass balloon launch in 2016.
Plastic water bottles may litter the ground at most large-scale raves, but not at Epizode this year, thanks to the aluminum water cans supplied by beWater, a firm committed to fully managing the entire life cycle of their cans.
In addition, Zero Waste Saigon will supply grass straws to replace their plastic counterparts, the tableware used at the food court decomposes in 45 days provided by HCM City-based company Green Domino Eco Solutions, and two beach clean-ups will be held with Phu Quoc Clean & Green, one of which has already taken place on December 15 with festival volunteers.
These commendable efforts, alongside a cup sharing programme, can help ravers party relatively guilt free, but Rogal understands the most important element to create an unforgettable festival.
"I see a lot of potential in Epizode, it's a whole eco-system, in which a whole bunch of opportunities are growing. But the centre is, without a doubt, music."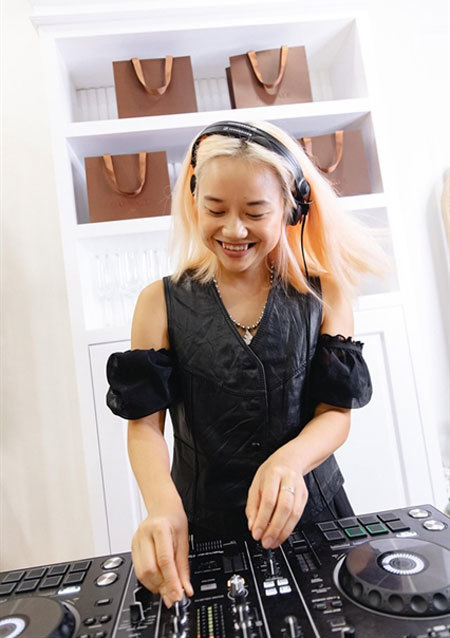 RISE: Levi Oi performs at the store opening of Daphale Studios in HCM City. Photo Tuan Tran

Community
If the centre of the festival is music, then DJs are central to the music, and you'd be hard-pressed to find someone more central to HCM City's underground dance music scene than Levi Oi.
Just a year ago though, she had just quit her corporate job, moved to HCM City from Germany, and was representing techno.vn at Epizode, not performing at the festival.
To go from attending the festival as a representative of the local underground music scene one year and performing the next speaks to Epizode's mission to grow a community in Vietnam, and attending the festival coupled with a collaborative project with Israeli producers Red Axes inspired Levi to learn to DJ, which she did alongside organising events in HCM City over the past year.
"I was quite open to any new experience and also the project with Red Axes inspired me, it just pushed me more in the music direction," she told Việt Nam News.
Just a few months ago she had her first big gig at HCM City club Bam Bam, and then contacted Epizode to suggest other Vietnamese DJs they could book for the festival to increase local representation.
"I just wanted to help them a bit because I like the festival and I wanted to connect Epizode with the city because most of the people go from here as well and a lot of people in Bam Bam are Vietnamese, so to get a bigger Vietnamese crowd at the festival.
"For me it's about the scene and about the community, it's not about anything else."
Unlike larger, more corporate festivals that might brush off such a request, Epizode worked with Levi to organise a pre-party in HCM City and then gave her a slot on the bill.
While some might rest on their laurels after achieving so much in a new field in the space of just a year, Levi plans to take the opportunities she's earned and run with them.
"From my first gig in a couple months to Epizode, I see it as a sign for myself to take it seriously. It can't be any more obvious that this was a path made for me. It's like someone's holding a big sign saying 'Girl don't throw it away, this doesn't happen every day!'"
When asked if that means festivals like Epizode could one day be headlined by Vietnamese DJs, she was emphatic about her determination to grow the local scene.
"Yeah, I will make sure that will happen."
Lots on offer
With an expanded array of activities apart from music, a larger festival site and a commitment to being as eco-friendly as possible, there's plenty to be excited about at this year's Epizode, never mind the world-class line-up of DJs.
So whether you want to see 2019 off with a bang, zone out and recharge your batteries in beautiful Phu Quoc or be part of an exciting new musical movement in Vietnam, Epizode has it on offer, all the while showing the world that Việt Nam and Southeast Asia have more to offer tourists than many may realise.
"I feel that Epizode is kind of a bridge between East and West that wasn't there before and so we have a unique opportunity to show how beautiful this country is," said Rogal. VNS
Peter Cowan

Epizode returns to Vietnam in just a few weeks, bringing 11 straight days of world-class dance music to the beaches of Phu Quoc Island.

Southeast Asia's top dance music festival kicks off in less than a month, and Hanoi is getting a taste of the action.

The full lineup for Southeast Asia's top dance music festival has been released, and ravers are in for a treat.