They wore traditional handmade brocade costumes of the Pa Co and Van Kieu ethnic minority groups on their recent wedding day instead of wearing the more popular Vietnamese ao dai (long dress).
Festival to honour Vietnam's brocade culture
The Mong woman who preserves and promotes ethnic brocade weaving
Brocade weaving of the Bahnar ethnic group in Gia Lai
Ethnic people make fortune in brocade craft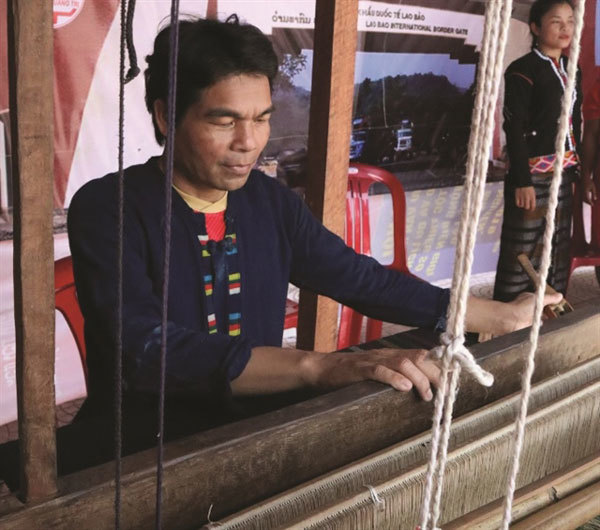 Brocade artisan Ho Van Hoi weaves a Pa Co and Van Kieu costume. Photo baodantoc.com.vn
Groom Ho Quang Nang from A Bung Commune in the central province of Quang Tri's Đakrông District said since the craft had been revived some years ago, local people including authorities and students wore brocade clothing more often than before in an effort to preserve the tradition left by their ancestors.
The art had been on the edge of extinction with youngsters preferring to wear modern, designer clothes, even on special days such as weddings or new year holidays, Nang said.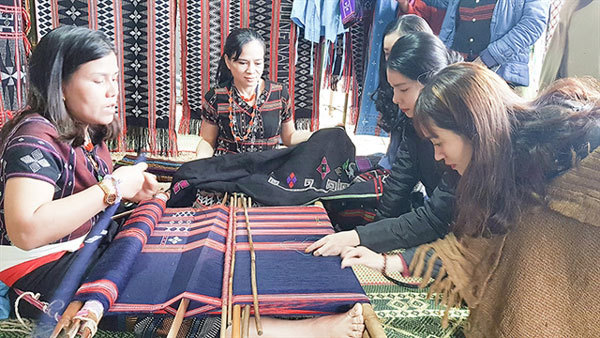 Customers check out Pa Co and Van Kieu brocade. Photo baoquangtri.vn
A Bung Commune is considered the birthplace of the art of the Pa Co and Van Kieu ethnic minorities. Before 2017, most looms were left covered in dust and spider webs, Doan Thi Nga, 52, a local woman said.
Thanks to efforts by local authorities, all Government employees have been asked to wear brocade uniforms every Monday and local and national celebrations such as the New Rice Festival and New Year holidays, Ho Van Hien, deputy chief of the commune, said.
Visiting the commune, you will see women weaving colourful brocade. We have a close connection with the looms because we've been around them since we were kids," Nga said, adding that a Pa Cô girl traditionally makes her own wedding dress from brocade.
The job provides colourful brocade for everyday use and is considered the soul of the Pa Co people, according to Nga.
To weave a run of 1.5m by 2m takes 3-5 days, plus 2-3 days to transform it into a traditional costume.
"Each design is a result of the hard work and sentiment of the maker," Nga said.
Traditional costumes of these groups express the rustic, innocent and simple life in remote A Bung Commune in the Truong Son Range. Men's costumes are colourful with many patterns while women's clothes are black with detailed patterns.
There are a dozen of costumes for different people such as a young girls, women carrying their children to work in the fields, young men going to join festivals, a date between a young couple under the moon, and elderly men and women sitting around the rượu cần (wine jar) swaying their heads to traditional music on an instrument called the ta lư and their own folk songs during festivals.

Handing the job to young people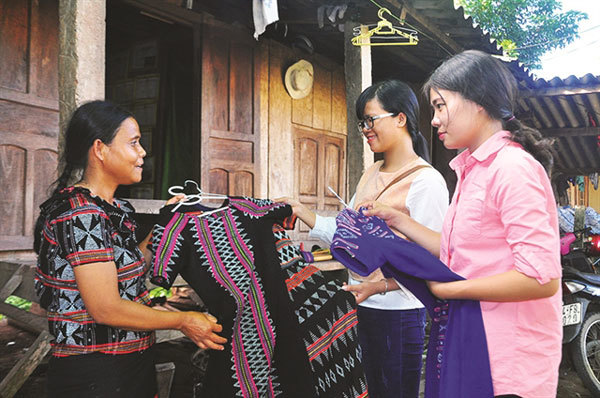 Doan Thi Nga displays her colourful items to buyers from town. Photo baoquangtri.vn
Nga recalled a story: "The first time I entered my husband's house I saw a loom in the corner of the kitchen. My mother-in-law said most people had stopped making brocade because it didn't sell well.
"I told myself I should try to revive the craft to express my love for my husband's homeland by travelling to the district market to buy materials such as colourful yarns. It took me two days to weave a delicate bag that earned me a lot of compliments from my mother-in-law and neighbours. Since then, many people including young girls in the commune have signed up to learn how to weave with me. I'm very happy," she said.
Nga's fame has spread far and wide. Locals in other remote areas of Thua Thien-Hue and Quang Binh have invited her to teach them how to weave brocade.
Thanks to support from my husband, who helps me with my homework and raises our children, I can devote my time to teaching young enthusiasts. I remember one day when I returned home after a long trip, I found my young daughter weaving brocade. She told me that she often sat at the loom when she missed me," Nga said.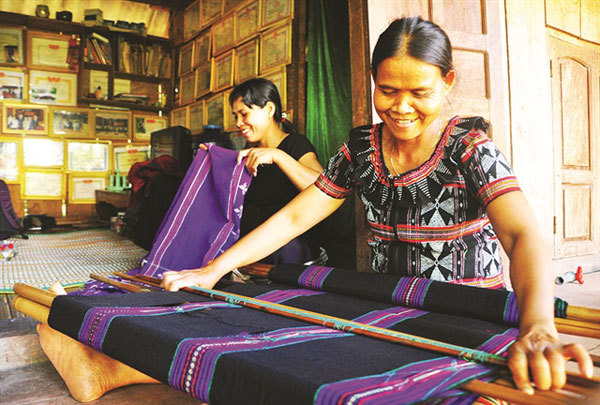 Doan Thi Nga prepares items for a trade fair in Hanoi. Photo baoquangtri.vn
After these trips, Nga said she also received many orders for her items. "To meet increasing demand, I've had to ask other professional weavers in my commune to help. Sometimes we have to work day and night but still place importance on quality."
Despite this, Nga had little idea about how to promote her goods to a wider market. Luckily, she was invited to take part in a fair in Hanoi last year where she had a chance to see traditional, handmade garments from other ethnic groups across the country.
"I was moved to see so many people looking at my stand and checking out my products. One young pretty woman asked me to weave her a modern brocade skirt for her to wear at important events," Nga said.
Apart from traditional costumes, Nga still makes brocade wallets, bags and hats as well as modern skirts and clothes.
"I'm very pleased these items are selling well because the price is affordable at about VND300,000 for a skirt. In fact, my purpose is to protect the job rather than make money," Nga said.
She said her daughter had become a brocade weaver. She had already made a very nice costume for her younger brother to take to university as a memento to remind him of his homeland and show to his friends at the Hue University of Science.
"I hope that young people including my offspring will love and preserve the craft as I have," Nga said.
Costumes made by Doan Thi Nga sell very well at local markets and trade fairs. Photo baoquangtri.vn
Another woman named Kăn Mèo from the commune's Ti Ne Hamlet recalled: "When our looms were in storage we were very sad, thinking that maybe we would no longer see our young people wearing our traditional brocade costumes. Thanks to the determination of local authorities, our job has been revived and developed, bringing us a stable monthly income and more importantly, still satisfying our desire to hand it down to the next generations."
At a traditional festival held recently in the district, a display of brocade items and looms of the Pa Co and Van Kieu lured large numbers of visitors.
Currently, brocade costumes were available at trade fairs not only in Quang Tri but also in other provinces and abroad, according to Hien, deputy chief of the commune.
Đakrông District has three communes specializing in weaving traditional brocade costumes of the Pa Co and Van Kieu.
Hien said since the craft had been revived and developed, local people were happy to see more people wearing brocade, including students.
Ho Thi Kim Cuc, deputy chairwoman of the district, said to protect and preserve this cultural identity, they would call on domestic and foreign organisations to co-operate and support brocade weaving households to develop the trade's potential.
By Thanh Thuy and Quang Hiep
VNS