The folk singing of the Thai ethnic minority group will be a highlight during the children's-themed month at the Viet Nam National Villages for Ethnic Culture and Tourism between August 1 and 31.
Children themed month at Vietnam Culture Village
Diverse summer activities for children at Hanoi's ethnic culture village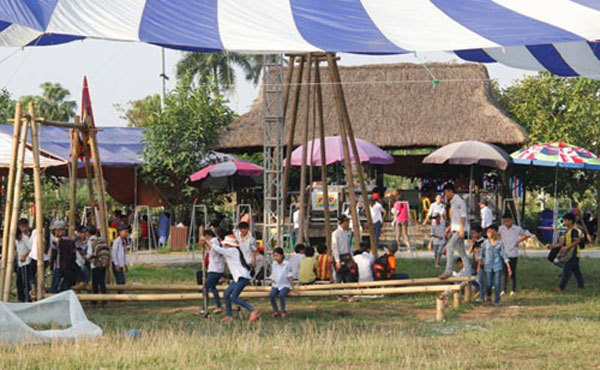 Ethnic Thai children will perform folk songs at a month-long event at the Viet Nam National Villages for Ethnic Culture and Tourism between August 1 and 31. — Photo vinaculto.vn
Thả bươn folk singing will be performed by 30 ethnic Thai children from Con Cuong District in the central province of Nghe An on August 17 and 18.
The Thai ethnic group has various kinds of folk singing in the form of poetic melodies with titles like Bắt Bướm (Catching Butterflies), Bắt Con Đom Đóm (Catching Fireflies), Cú Bắt gà (Owl Catches Chicken) and Đố Trăng (Puzzle on the Moon). The folk singing is always accompanied by folk games.
The performance at the village will be introduced with folk games such as đánh khăng (piggy), bịt mắt đánh trống (beating drums while closing eyes), múa sạp (dance with bamboo poles) and múa xòe (dance with scarfts).
Con Cuong is a remote district in Nghe An Province that borders Laos. Local authorities have been implementing a preservation project to restore Thai traditional culture.
The district has a special policy to develop traditional culture clubs which host classes on folk dances, singing, and playing instruments.
Visitors to the village this month can learn how to play folk instruments and take part in the folk games of ethnic Thai as well as the Mong, and Co Tu ethnic groups.
The village is also offering reading spaces for children and adults.
Children can take part in various recycling activities in a contest titled "A Small Action for Big Heaps of Plastic Garbage".
The village is located in Son Tay District, 40km west of the Ha Noi centre.
VNS