Ljupko Petrovic's agent has denied reports his European Cup-winning client will return to Vietnam to manage his former club Thanh Hoa FC.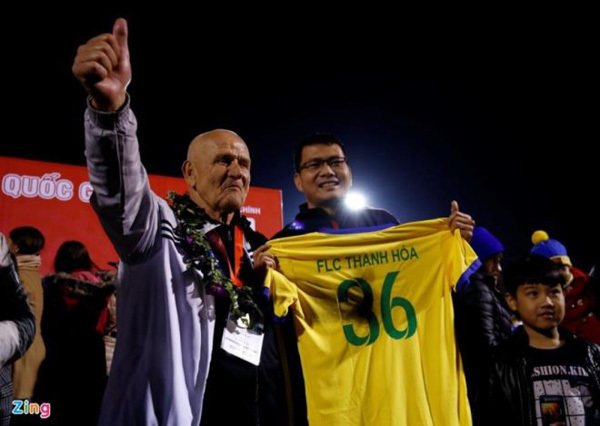 Petrovic led Thanh Hoa FC to second position in the 2017 V.League season. (Photo: Minh Chien/VTC)
The Serbian's agent Jernej Kamensek posted on his personal Facebook page that reports from several local media outlets that the former Red Star Belgrade manager would return to the country were unfounded.
"I think this is fake news. We all know Ljupko is currently a politician in Serbia and cannot take over a football club here. I also talked to him and he said that no one has contacted him," he told thethao247.vn.
"But Petrovic can still consider if Thanh Hoa sends an offer, but not at the present time" he added.
On Friday (Dec 25), Thanh Hoa FC posted on Facebook that they had reached an agreement with the 73-year-old manager.
Petrovic is one of the most famous managers to have worked in Vietnam. The 73-year-old started his coaching career in 1982 and has managed many famous clubs including Red Star Belgrade, Espanyol and Olympiakos.
He is considered one of the best managers in Thanh Hoa's history and helped the team finish V.League 1 runners-up in 2017 – the best position in the club's history.
However, because of a conflict with the club's former president Nguyen Van De, Petrovic left Thanh Hoa after the 2017 season.
Thanh Hoa have had three coaches in the past six months, namely Fabio Lopez, Nguyen Thanh Cong and Mai Xuan Hop.
Mai Xuan Hop, born in Thanh Hoa, was expected to manage the club for a longer time as former president Nguyen Van De said he would support a local manager.
But in November, due to health issues, De decided to quit and transferred the president role to Cao Tien Doan – general director of Dong A Group.
Thanh Hoa are currently undergoing a big transition and have signed strikers Chavaughn Walsh, Jose Pinto and two Vietnamese players, Le Quoc Phuong and Doan Ngoc Tan.
Thanh Hoa were in the regelation zone most of last season, but under Nguyen Thanh Cong's management, they won four and drew two in eight matches to ensure safety. VNS

Serbian coach Ljupko Petrovic will take the helm of Thanh Hoa FC to lead the club in the upcoming V-League 2021.