An exhibition featuring the best works from the European Characters in Viet Nam Contest opened yesterday to kick off European Literature Days 2019 in Hanoi.
Vietnam's three largest cities to host European Literature Days 2019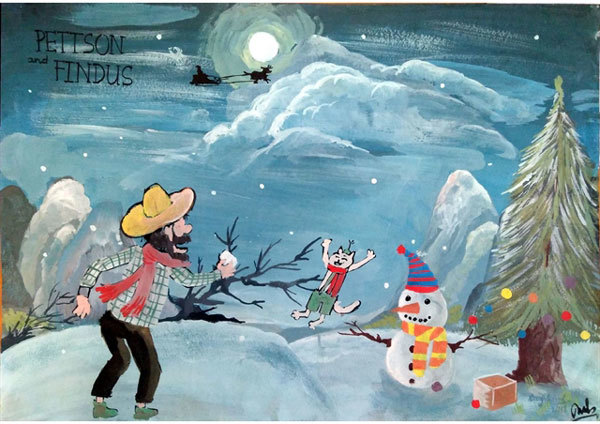 The second prize–winning painting featuring Swedish characters Pettson and Findus by Nguyen Quynh Anh from Ha Thanh High School. Photo courtesy of the organisation board
The exhibition displays more than 50 drawings selected from the contest run by European Union National Institutes for Culture (EUNIC) and Ha Noi-based Nguyen Tat Thanh School.
The contest aimed to inspire junior and high school students to draw and write about nine characters of European literature, including Puss in Boots, Don Quixote, Harry Potter and Le Petit Nicolas.
Four of the works were the winners of an online vote on Facebook. Duong Le Tue Minh, from Nguyen Tat Thanh School won the first prize for his drawing entitled Conversation between Don Quixote and Sancho Panza, while Nguyen Quynh Anh from Ha Thanh High School grabbed second prize for her work featuring Swedish characters Pettson and Findus.
Chu Van An School's Nguyen Duc Dai and Le Khanh Ly from Nguyen Tat Thanh School took third prize.
The contest organisers received about 1,500 entries and selected the 108 best drawings to exhibit at the French Cultural Centre and Goethe Institute in Hanoi.
The 9th European Literature Days runs in Hanoi, HCM City and the first time in Da Nang until May 25. The event includes book presentation and reading, workshop, exhibition and film screenings.
"This vivid literature festival with contribution from ten European countries will be full of activities for book lovers," said Emmanueal Labrande, President of EUNIC.
"The festival will bring you more books, more activities and more opportunities to take a closer look at the literature, lifestyle and cultures of Europe".
This annual festival has been held in Hanoi since 2011 by EUNIC, with support from the EU delegation.
Different groups of readers, from kids to adults, and with a variety of reading tastes will be able to find novels as they explore literature and social science books from Britain, Czechia, France, Germany, Hungary, Italy, Spain, Sweden, Switzerland and Wallonie-Bruxelles (Belgium).
This year, the festival promises something for every reader. Audiences will be able to browse books in conference rooms, exhibitions and in book streets.
There will also be a chance to meet authors, listen to talks and readings or participate in interactive activities.
In Hanoi, all events will take place at Casa Italia, Goethe-Institut, L'Espace, Ha Noi University and Bluebirds' nest Café while events in HCM City will be at the British Council, IDECAF, the HCM City University of Social Sciences and Humanities, Café Salon Saturday and Book Street in District 1.
In Da Nang, all the events will be held at the Da Nang General Science Library and the French Institute.
VNS