The European Literature Days 2019 will be held for the ninth time in Hanoi, the fourth time in HCMC and the first time in Danang in May, the French Cultural Center L'Espace in Hanoi has announced.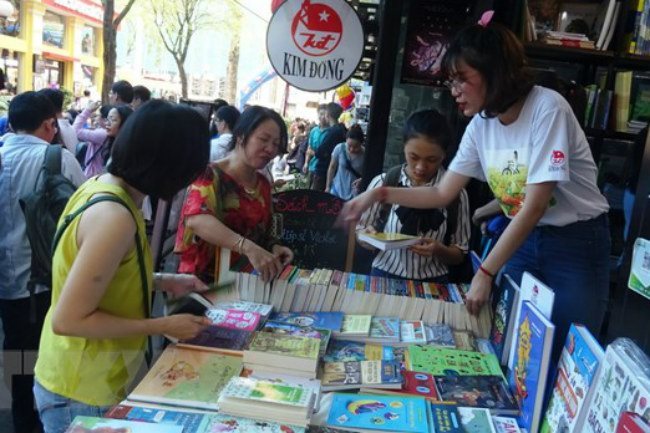 Readers visit a bookstore at last year's European Literature Days festival
With 10 European countries attending, this vivid literature festival will be full of activities for book lovers, including book presentations, readings, workshops, exhibitions, films, quiz games, prizes and big discounts on European books at the shops on HCMC Book Street.
The annual European Literature Days festival has been successfully organized in Hanoi since 2011 by the European Union National Institutes for Culture and the Association of European Cultural Institutes and Embassies, with support from the EU Delegation.
Returning to Hanoi, HCMC and Danang this year, the European Literature Days 2019 will introduce more books, more activities, and more opportunities for participants to take a closer look at the literature, lifestyles, and cultures of Europe.
There will be books from the British Council, the Czech Republic, Finland, France, Germany, Hungary, Italy, Spain, Sweden and Belgium suitable for readers of all ages.
Visitors will also have a chance to meet authors, listen to talks and readings, or register for workshops and participate in interactive activities.
The festival will start with the "European characters in Vietnam" contest, which is jointly organized by the European Union National Institutes for Culture and Nguyen Tat Thanh Secondary and High School. The winners' drawings will be displayed at L'Espace and Goethe Institute.
In Hanoi, all events will take place at Casa Italia, the Goethe-Institut, L'Espace, Hanoi University and Bluebirds'net Café, while in HCMC events will occur at British Council, IDECAF, HCMC University of Social Sciences and Humanities, Café Salon Saturday or on HCMC Book Street. In Danang, the events will be held at the Danang General Science Library and French Institute. SGT