Calligrapher Ngau Thu will display his works featuring poems by Heinrich Heine at an exhibition at the Ha Noi Goethe Institute.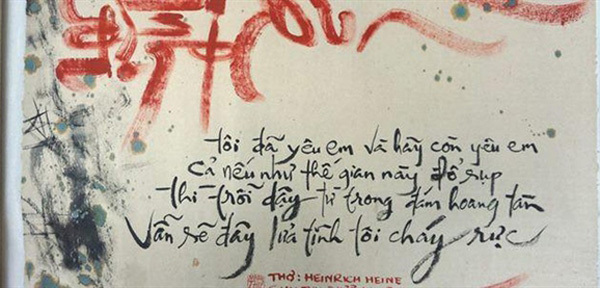 An artwork by calligrapher Ngau Thu. Photo goethe
The exhibition will open in the afternoon today (August 26) to combine the German poet's Lyrical Intermezzo and calligraphy.
The 65 poems are translated into Vietnamese by Chu Thu Phuong. Seven poems inspired Thu to write calligraphy.
Between 1822-1823, Heine wrote poems to immortalise love - an eternal theme with the joys and sorrows which makes life worth living.
Thu pays tribute to these works in his calligraphy using traditional materials such as dó (poonah) and xuyến (szuanzi) paper combined with Chinese ink and special varnish as well as variations in verse breaks and rhythms.
Ngau Thu is the pen name of Nguyen Thanh Tung. He lives in Hanoi and has had a passion for calligraphy since he was very young.
He graduated from HCM City University of Education's Department of Vietnamese Language Studies in 2010.
Driven by his continued devotion, passion, gratitude and appreciation for quintessential national traditions, he decided to study calligraphy so he could design and preserve it for modern everyday life.
His creativity has contributed to preserving and developing traditional calligraphy.
The exhibition will run until September 2 at 56-58 Nguyen Thai Hoc.
VNS