An exhibition showcasing áo dài (traditional long dress) designed exclusively for wedding events opened on Saturday in Hanoi.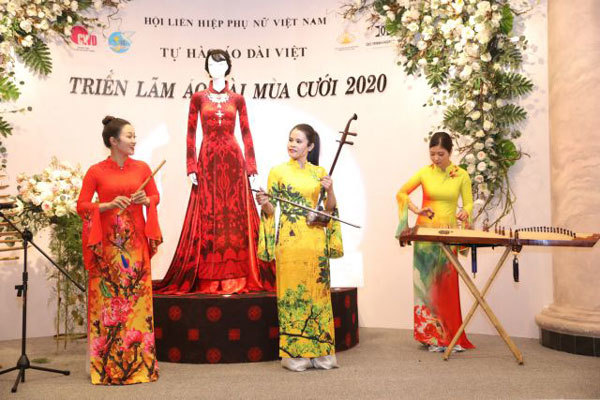 Cỏ Lạ, a group playing traditional musical instruments, perform at the opening ceremony of the exhibition. Behind them is the long dress inlaid with gold and diamonds. — VNS Photo Minh Phuong
Hosted by the Vietnam Women's Union, the exhibition displays a collection by designer Do Trinh Hoai Nam including a design inlaid with gold and diamonds. The dress, which costs VND2.3 billion, has been inlaid by artisans from Kieu Ky Village (Gia Lam District) and embroidered by artisans in Thuong Tin District, Hanoi.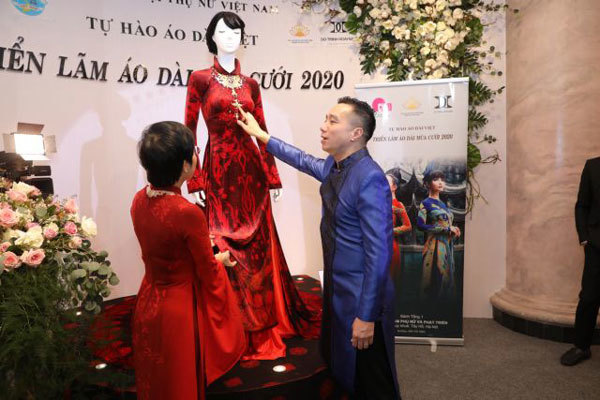 Designer Do Trinh Hoai Nam introduces the long dresses for a guest. — VNS Photo Binh Quach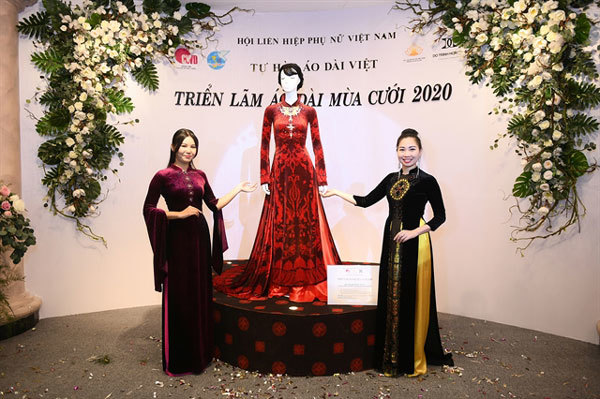 Some designs in the collection for wedding events of designer Do Trinh Hoai Nam.

"Artisans from Hang Bac Street stuck 40 diamonds on the velvet. I designed the dress, but all the craftspeople created the piece and brought the idea on paper to life," said designer Nam.
"I use patterns inspired by royal costumes, I tried to make it to honour Vietnamese traditional values."
Vietnamese people wear traditional long dresses at festivals, anniversaries and important events including weddings. Nam said the collection includes long dresses dedicated to brides and mothers of the brides and bridegrooms.
"As people often organise weddings in spring, it's time for me to release this special collection," he said.
Traditionally, apart from wedding ceremonies, families of the bride and the bridegroom also organise dạm ngõ (a proposal ceremony in which parents officially discuss the marriage) and ăn hỏi (an engagement ceremony). People wear different long dresses for these ceremonies.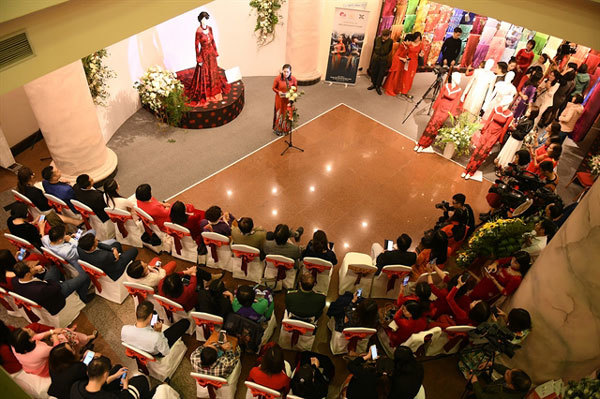 Do Thi Thu Thao, vice head of the Vietnam Women Union, speaks at the opening ceremony of the exhibition. — VNS Photo Binh Quach

"This time I focussed on long dresses for mothers because the costumes for the brides are so popular and inspired many designers, meanwhile the dresses for the mothers are often ignored, all designs for mothers in this collection are made from velvet and hand-embroidered," he said.
"I think the exhibition is a good chance to promote the traditional long dresses as well as honouring the fine values of Vietnamese culture," Nam added.
The exhibition will run until March 30 at the Centre for Women and Development, 19 Thuy Khue Street, Hanoi. — VNS

The Ao Dai (traditional long dress) Show, a traditional Vietnamese art and cultural performance, has been launched in the central city for local and foreign tourists after a successful four-year stint in Hue.

Fashion designer Minh Chau will introduce his latest ao dai (Vietnamese traditional dress) collections at Diamond Place next week.