An exhibition of sketes by children aged 6-13 will be held from June 1-7 in Hanoi.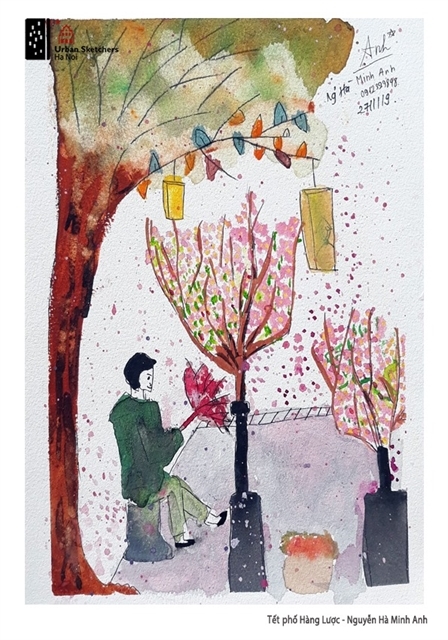 A painting titled Tết on Hàng Lược Street by Nguyễn Hà Minh.
With the theme Children Paint Hà Nội, the exhibition is organised annually by the Hà Nội Urban Sketchers (USK) group.
This year, it will feature 50 artworks reflecting the beauty of Hà Nội with electric poles and crazy power lines; old roofs in the Old Quarter; trees on the streets; and signature architecture such as the Hà Nội Opera House and Long Biên Bridge.
Architect Trần Thị Thanh Thủy, head of the group, said the children and parents gathered at the weekends to paint. This helped connect generations of families, enrich creativeness and inspire a love for fine arts.
"Each painting is a separate world with different colours and angles," said Thủy.
"The exhibition is the result of a process in which the children learn by themselves and discover life."
USK is a group of Hà Nội art lovers who gather to capture the city's disappearing traditional architecture through drawings. They try to sketch and share to preserve the beautiful images of urban heritage.
The exhibition will be organised at Ago Hub, 12 Hòa Mã Street. — VNS