An exhibition of nearly 100 traditional folk paintings opened at the Hue Museum of Fine Arts in the central province of Thua Thien – Hue on April 25.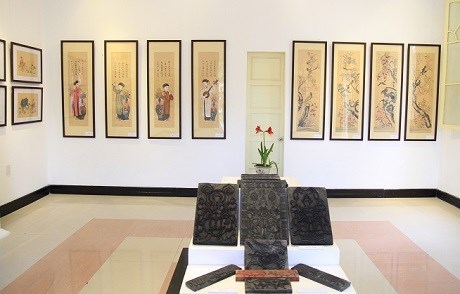 Paintings on display at the exhibition (Photo: netcodo.com.vn)
On display are 68 outstanding paintings selected form the Vietnam National Fine Arts Museum's collection of traditional art. The works were originated from the painting genres of Dong Ho (Bac Ninh), Hang Trong and Kim Hoang (Hanoi), Vu Di (Vinh Phuc), and Doc Loi (Nghe An).
The exhibition also features a total of 28 Sinh village paintings by artisan Ky Huu Phuoc from Thua Thien – Hue.
All of the displays are Vietnamese woodcut paintings. Craftsmen make them by using woodblocks to create outlines on papers then painting the details by hand. Folk paintings were once associated with the spiritual life of Vietnamese people as they were usually used for worship or decoration during the Lunar New Year festival.
Visitors to the event, which lasts until May 1, will have chance to learn about printing techniques employed to create Hang Trong and Sinh village paintings.
Speaking at the opening ceremony, Phan Thanh Hai, director of the provincial Department of Culture and Sports said the exhibition is a meaningful activity in honour of the art, adding that it offers an enticing experience for locals and tourists, particularly youths, to understand the value of Vietnamese traditional folk paintings.-VNA