An exhibition of veteran artists representing different styles of Vietnamese fine arts will open from May 30 to June 15 in Hanoi.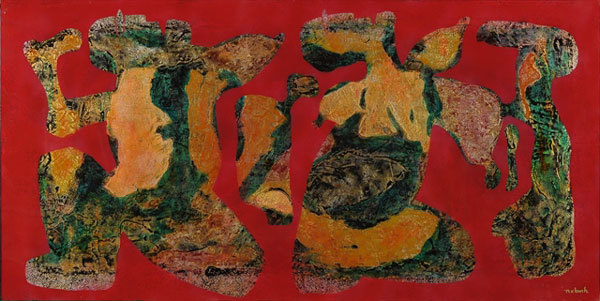 Wild Joy, a lacquer work by Ngo Xuan Binh.
The exhibition will gather some of the biggest names of Vietnamese art, including Ngo Xuan Binh (oil on canvas), Le Van Thin (white lacquer), Dang Tin Tuong (giant lacquer on wood) and Dao Trong Cuong (gemstone paintings).
The exhibition is entitled Niệm (Opinion).
Painter Thanh Chuong said their works contain tolerance and opinions about life, each from an experienced artist with a strong position in Vietnamese art.
Binh was born in 1957 in the central province of Nghe An. He is known as a versatile artist as not only a painter but also a poet, martial artist and a practitioner of Vietnamese traditional medicine. He founded Nhat Nam martial arts school and has published books on traditional medicine, poetry and martial arts.
He has exhibited in Minsk and Moscow and is one of only two foreigners given the title of Honourary Member by the Russian Academy of Arts.
Thin was born in 1952 and currently works as a lecturer at the Ha Noi Open University. He is famous for his white lacquer paintings using silver leaves, egg shells and seashells.
Tuong was born in 1945 in Hai Duong Province. He is well-known for large paintings of lacquer and oil on canvas. His famous artworks include Thăng Long Firedragon (170cm by 420cm), Spring in Việt Nam (150cm by 360cm) and Hạ Long Bay (180cm by 280cm).
Cuong was born in 1954 in Hanoi. He owns Thần Châu Ngọc Việt, the most prestigious gemstone painting company in Vietnam. He is considered the inventor of the art of gemstone paintings.
The exhibition will open in the morning of May 30 at the Ha Noi Museum, 2 Pham Hung Street, Hanoi.
VNS