A fine arts exhibition featuring local life in the country's southern Central and Central Highlands (Tay Nguyen) regions will run from August 13 to 22, according to the Ministry of Culture, Sports and Tourism.
The beauty of waterfalls in Dak Lak province
Dak Lak - an attractive destination to tourists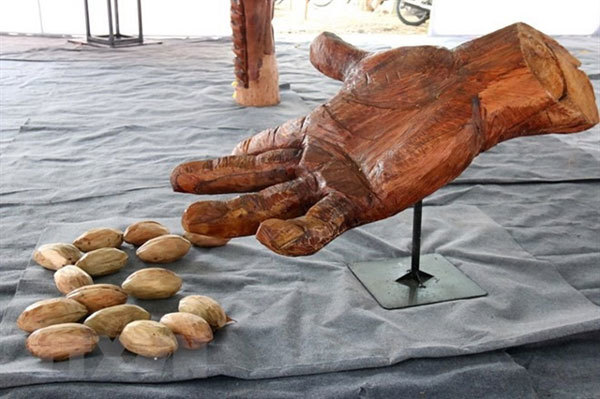 GIVE ME A HAND: The Tay Nguyen (Central Highlands) province of Dak Lak's Department of Culture, Sports and Tourism, in collaboration with the Viet Nam Fine Arts Association, will open an art exhibition on August 13. VNA/VNS Photo for illustration
The event, hosted by the Dak Lak Department of Culture, Sports and Tourism in collaboration with the Viet Nam Fine Arts Association (VNFA), will take place at the Dak Lak Cultural Centre at 2 Hung Vuong Street in the Central Highlands province of Dak Lak's city of Buon Ma Thuot.
About 200 works by artists from across the region – called Zone 5 – will be selected for display at the exhibition by the Art Council of the VNFA, the report said.
The exhibits will include paintings made of different materials such as oil, silk, paper and lacquer, as well as sculptures. They will feature everyday life and love for the artists' homes and country in the course of modernisation and industrialisation.
According to the organising committee, the event promises to present a colourful forum for artists in Dak Lak Province and the rest of Zone 5 to meet and exchange experiences.
The committee said it encouraged all creative works on the topics of national development including in history, the revolution and building and protecting the country, especially on the national programme on learning and following the ideologies, morals and characteristics of President Ho Chi Minh.
Artists are encouraged to be creative in their choice of art form, language and materials to promote the nation's artistic tradition, the VNFA said.
The committee said the event would also be an opportunity to increase public awareness and understanding of fine arts.
At the same time, it said, the event would be a chance for provincial and local authorities to promote the image and beauty of Dak Lak to partners in others provinces to attract more domestic and foreign tourists.
VNS