Ancient Vietnamese royal costumes, landscapes and traditional culture have all provided inspiration for Nguyen Duy Duy to create enchanting 3D lightboxes.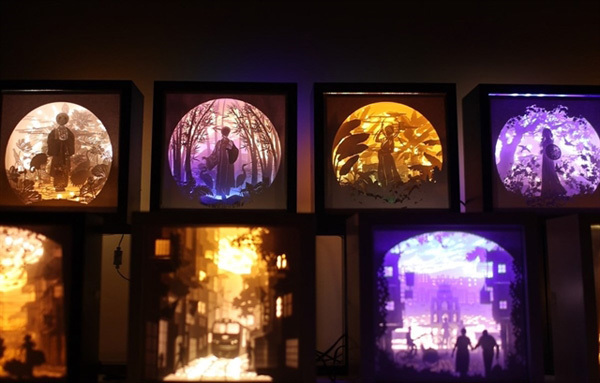 COLOURED IMAGERY: Duy's lightboxes showcase ancient Vietnamese royal costumes, landscapes, and traditional culture.
A native of Thach That District on the outskirts of Hanoi, Duy came up with the idea of combining LED lighting and the Japanese art of "kirigami", inspired by shadow puppetry, to create magical lightboxes as his university graduation project in 2018.
With the help of a friend, he experimented making lightboxes for over three years and then established his own brand -- Fox Design. He and his friend are now considered the innovators of such creations in Vietnam.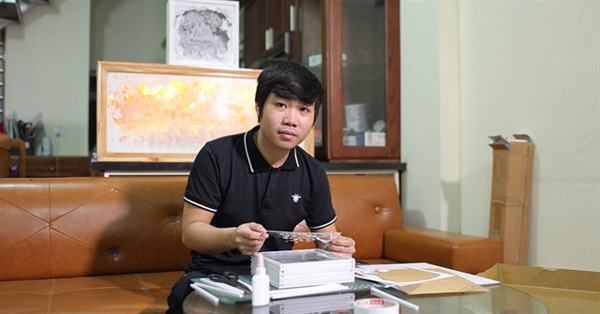 KEY CREATIONS: Duy's lightboxes are a source of pride for him because he understands the importance of culture for a country.
The 25-year-old's latest completed project, entitled Việt Nam -- Đất Nước và Con Người (Vietnam -- Land and People), is a combination of three distinct parts, in which the "People" part aims to honour the beauty of Vietnamese women in traditional or ancient royal dresses.
Meanwhile, the "Land" part features beautiful landscapes in Vietnam, from the north to the south.
When seeking ideas for the project, Duy happened to hear the song Nhớ Về Hà Nội (Remember Hanoi) presented by singer Hong Nhung, which brought back childhood memories of hanging out with his father and rekindled his affection for his hometown.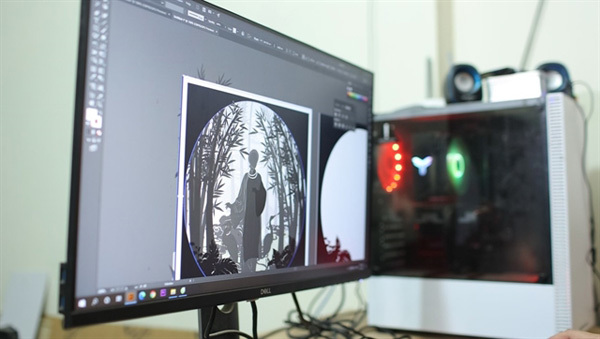 DETAILED PROCESS: The first step is designing paper layers on a computer, then printing them and placing them in a certain order to complete the image.
Much of the scenery inside his lightboxes is associated with outstanding Hanoi landmarks like the Old Quarter, the Instagram-famous "train street", and St Joseph's Cathedral.
Stunning national landscapes also make an appearance, such as terraced rice fields, Hoi An ancient town, and the former imperial city of Hue.
According to Duy, presenting Vietnamese culture and costumes in his lightboxes is both a joy and a source of pride, because he understands that "culture is an integral part of a nation".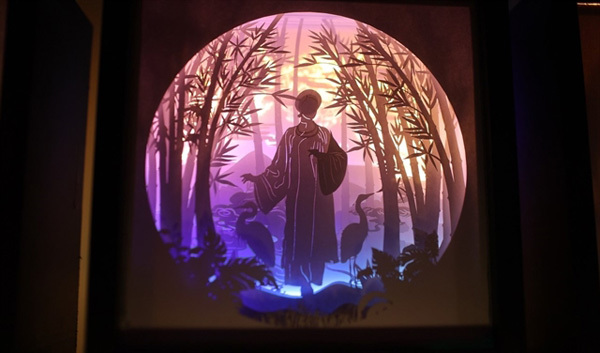 STUNNING DESIGN: A woman in a royal costume, dating back to the 18th century, is the subject of one of Duy's lightboxes.
"The 'Vietnam' part was the hardest for me, as I had to select what I consider to be national symbols," he recalled. "After talking to my friend, I decided to integrate four cultural and artistic forms into our creations, including tuồng (classical drama), water puppetry, Hue court music, and the Central Highlands gong space."
Before making any product, Duy must conceptualise, design, set up the background scene, and arrange paper layers on a computer. He then meticulously cuts out designs, which must be printed by hand on art paper in order to ensure precision in the final product.
After the cutting, the paper layers are attached to each other to create a complete image. Each layer must be carefully chosen so that its original quality is maintained, with no shrinking, stretching, or wrinkling due to unfavourable temperature or humidity.
PUT TOGETHER: Each lightbox includes from five to seven or even as many as 15 layers of paper, depending on the desired image and colour. VNA/VNS Photos Hoang Dat
Each lightbox includes from five to seven or sometimes up to 15 layers of paper, depending on the complexity of the context and image. Duy and his friend must strike a balance between component parts, so that the light can pierce through the paper layers and create the intended effect.
The set-up for the LED lighting at the back of the box is also carefully calculated. The ratio of light determines the colours in the final product. Thanks to laser printing technology, each member of Duy's team can make three for four lightboxes a day with an increasing level of precision and sophistication.
Prior to the "Việt Nam -- Land and People" project, Duy made lightboxes featuring famous scenes from classic films like The Lion King or celebrations of traditional Vietnamese festivals, from which he gained a lot of experience.
Sometimes he and his friend decide to start over again if they feel the colour is unsuitable or if light can't make it through the set-up the way they prefer.
But that doesn't dampen their spirits, and Duy and his friend are fully invested in pursuing their artistic craft.
"We plan to experiment with other subjects, such as childhood memories, depicting memorable moments that most kids in rural areas would have had, or more sophisticated topics like 'feng shui' or Buddha," Duy said.
VNS

Traditional costumes made with sophisticated sewing, embroidering and decorating techniques are more in the public eye than ever as they are featured in more films and television shows.

Designer Nguyen Duc Loc has been in love with ancient Vietnamese costumes for a long time. He has devoted much effort to restoring and introducing the traditional beauty of these costumes to the public, especially to the younger generations.