The Vietnam Grand Prix Corporation (VGPC) has completed the Hanoi Formula 1 circuit, which will play host to the first-ever race in the country in April.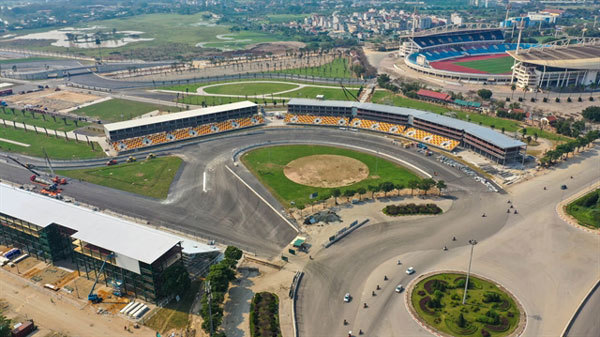 A view of the Hanoi F1 circuit which is ready for the Grand Prix this April. — Photo of VGPC
VGPC, promoter of the event, announced that the 5.607km-long track and permanent constructions are ready for the exciting activities.
The final 150m of track was laid last week, along with the start/finish line to complete the 23-turn circuit, which features a unique hybrid design, fusing a street circuit's characteristics with a permanent track layout and is the first of its kind.
The original surface sample was sent to laboratories in Singapore and Germany to undergo thorough testing to ensure it met all FIA requirements.
The organisers are now focusing on the temporary structures around the circuit, including the Grandstands – each named after iconic Vietnamese cities and locations, as well as the media and medical centres and safety barriers.
"This is a major milestone for us to celebrate as we come closer to staging Vietnam's first ever Formula 1 race weekend in just over a month's time," said Le Ngoc Chi, CEO of the VGPC.
"We are beyond excited to witness the extraordinary sight of Formula 1 cars racing on this incredible circuit. It will be a moment of great pride for the whole team here at VGPC and a fitting tribute to the hard work that has gone in to ensuring the newest track in F1 is ready on time.
"We are confident to say that this track will be one of the most challenging and exciting on the F1 calendar and we look forward to it quickly becoming a fan favourite. We are ready and can't wait to welcome the world to Hanoi very soon," said Chi.
The Hanoi circuit, which is the third round of the 2020 FIA Formula 1 World Championship, will entertain Vietnamese spectators on April 3-5. — VNS

The Formula 1 VinFast Vietnam Grand Prix 2020 will still take place as scheduled on April 5 despite growing concerns over the novel coronavirus (COVID-19) outbreak, the Hanoi Tourism Department announced yesterday afternoon, Feb 18.

Hanoi is hastening the construction of a racetrack to host the country's first F1 Grand Prix in April 2020.
The Vietnam Grand Prix Corporation (VGPC) has confirmed that the Porsche Carrera Cup Asia (PCCA) will be a support race for the Formula 1 VinFast Vietnam Grand Prix 2020 in Hanoi in April.