Fahasa Nguyen Hue Book Store in HCM City's District 1 on Friday unveiled a dedicated area for selling books, stationery and souvenirs imported from South Korea together with Korea-based Kyobo Book Centre Co Ltd.
Korean fund presents books to children in Ho Chi Minh City
Korean book fair in Ho Chi Minh City opens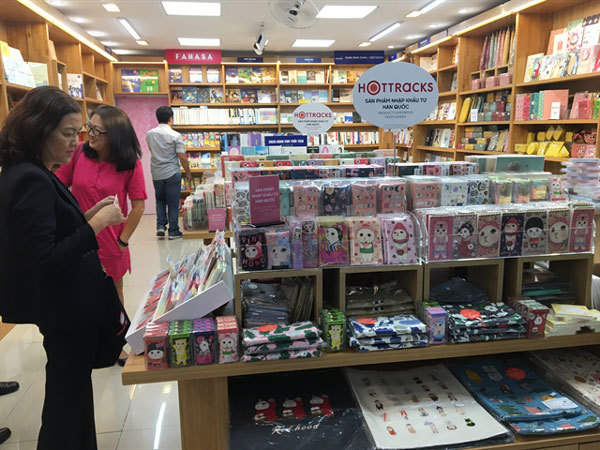 A visitor browses through Korean books and stationery at the Korean Zone at Fahasa Nguyen Hue Book Store in HCM City's District 1.
It has 1,000 Korean book titles for children, teenagers and learning Korean besides dictionaries and cookbooks.
Magazines and books on the Korean music industry and pop stars like BTS and Black Pink are also available.
Park Yeong Gyu, CEO of Kyobo, said: "It's our honour to have the chance to introduce and sell Korean books and products at an important venue in downtown HCM City - Fahasa Nguyen Hue."
He could feel the passion for reading, he said.
Pham Minh Thuan, CEO of Fahasa, said his company took part in several book fairs and seminars in Korea for two years to find a partner and learn about the Korean book market.
"The opening of Korean Zone is the result. The zone targets a community of students and people studying and living in HCM City and Vietnamese youths having interest in Korean culture."
One of Fahasa's biggest stores, it stocks hundreds of thousands of titles by Vietnamese and foreign authors, including in English, and stationery imported from the US, Germany, Spain, Thailand, Japan, and Korea.
The company has launched a campaign on using paper bags at all 510 of its stores in the country.
Over 500,000 bags made from old calendars, newspapers and magazines by Fahasa staff will be used this year, and one million next year.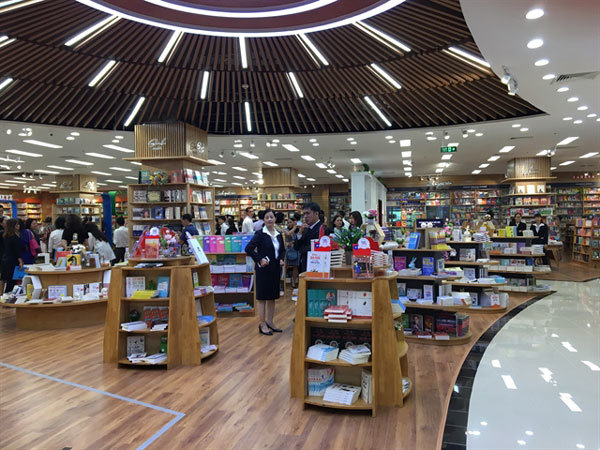 The Fahasa Tan Phu Book Store has hundreds of thousands of books and stationery. VNS Photos by Phuong Mai
VNS