The Vietnam Sports Administration has confirmed the first COVID-19 case concerning a Vietnamese athlete, Tien Phong reports.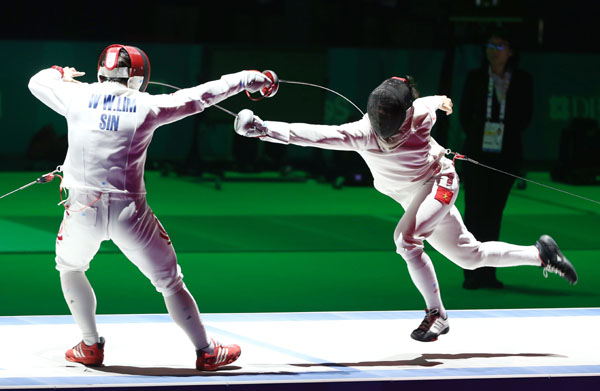 Fencer Nguyen Tien Nhat (right) is the first athlete of Việt Nam tested positive for COVID-19. Phototdtt.gov.vn
Fencer Nguyen Tien Nhat tested positive after returning home from an Olympic qualification event.
A six-strong fencing team took part in an Asian zone qualifying round in Uzbekistan late last month and returned home on May 7.
All of them had negative results when they departed for the tournament and before flying home.
However, when the team was tested during their quarantine time in HCM City, Nhật was found to be positive. He was the only one who has not been vaccinated on the team.
The tournament organisers did not ask for a vaccine certificate, just a negative test result 72 hours prior to their flights.
"Most of the athletes received vaccine shots the first phase in April in Hà Nội. But he is based in HCM City where athletes were inoculated early this month, therefore he was not injected yet. He has been isolated and is receiving treatment," said Hoàng Quốc Vinh, head of Elite Sport 1 Department of the administration told Tien Phong newspaper, adding that the source of infection has not been found.
"My athlete does not have any symptoms and is in good conditions and we will make an announcement when we have more detailed information," he said.
The fencing team failed to secure a berth in the coming Tokyo Games.
Apart from fencing, the weightlifting and rowing squads are also in 21-day quarantine after their international competitions. Football players of the People's Police and Sông Lam Nghệ An clubs just finished their quarantine periods after being in close contact with COVID-19 F1 people. They all tested negative.
In the coming weeks, national teams such as karate, taekwondo and judo, all vaccinated, will leave for Olympic qualification events. VNS

Experts said that it is necessary to carefully consider the sample collecting techniques used for Covid-19 tests.

Some hospitals have begun providing on-demand Covid-19 test services in response to high demand.