Vietnam and Thailand pose a threat in Group G, said FIFA in an article published on its website FIFA.com on July 17, in regard to their impressive displays in the 2019 AFC Asian Cup.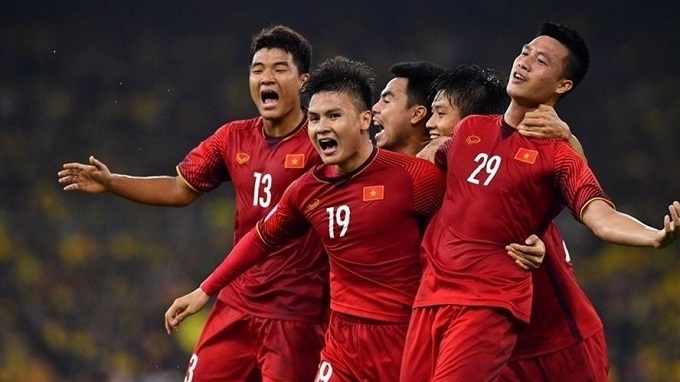 Park Hang-seo's Vietnamese side win high appreciation from FIFA for their impressive Asian Cup 2019 display.
Immediately after the draw results of the second round of the Asian qualifiers for the FIFA World Cup Qatar 2022 were released in Kuala Lumpur, Malaysia, on Wednesday, FIFA provided a closer look at the eight groups, with Vietnam's Group G named the top headline grabber.

The governing body of world football hailed Group G as "definitely an interesting one to watch" with four Southeast Asian teams (Vietnam, Thailand, Malaysia and Indonesia) being drawn together in "what looks like a regional competition".
The quartet is joined by the group's top seed, United Arab Emirates, who are aiming to seal their first World Cup return since their previous appearance 29 years ago. While the Italy 1990 participants are the highly-favoured side, FIFA warned that UAE should not underestimate their competition.
The article named both Vietnam and Thailand as potential threats following their brilliant performance in the AFC Asian Cup hosted by the UAE earlier this year. Meanwhile, Indonesia and Malaysia may produce a surprise as well, it read.
The draw results of the second round of the Asian qualifiers for the FIFA World Cup Qatar 2022.
In addition to Group G, FIFA stated that Group C (with the presence of Iran, Iraq and Bahrain) and Group H (with the presence of Republic of Korea, Korea DPR and Lebanon) promise unpredictability and fierce competition.
According to the schedule, Park Hang-seo's Vietnamese side will start their World Cup Qualifying campaign with an away match against Thailand on September 5.
Divided into eight groups of five, the 40 Asian teams will battle it out against each other from 5 September 2019 to 9 June 2020, with the eight group winners and four best runners-up advancing. Should Qatar win their group, the other seven group winners and the five best runners-up will progress to the next stage.
Nhan Dan