Man up. Two short words that if you've spent any time in a masculine environment you're bound to have heard.
Beatboxer shares his passion for art
Music video depicts stunning beauty of Y Ty Commune
Khau Vai Love Market in Ha Giang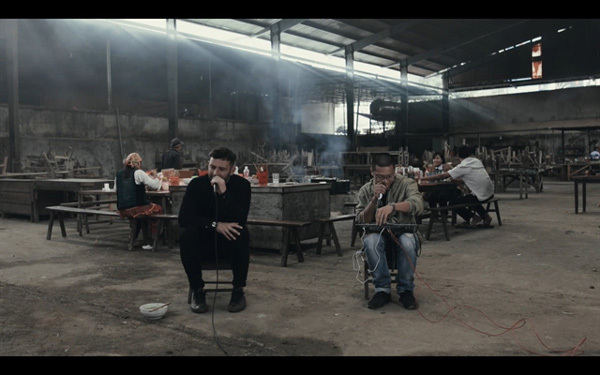 Ian Paynton and TuanSS perform Find Me in the Mountains in Meo Vac Market. - Photo YouTube screenshot
Have the flu? Man up. Took a knock on the football pitch? Man up. Crying over your ex-girlfriend? Man up.
Though only two short syllables, it's a phrase that encapsulates toxic masculinity. It celebrates the idea that to show vulnerability makes one less of a man, and therefore in a patriarchal society, less worthy of respect.
Phrases like this are what make even having a simple conversation about mental health difficult for men, as admitting you're struggling to become less manly.
Life as an expat can make anyone's mental health issues worse for various reasons, chief among them being separated from the support systems we've had all our lives, and many expats struggle with filling the void where family and long-time friends should be.
But some people are trying to fill that void.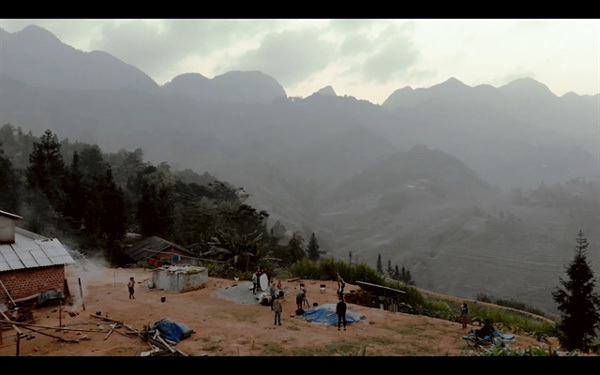 The mountains provide an awe-inspiring and humbling background for the music video. - Photo YouTube screenshot
Pulling back the curtain
"The last thing people need to do is 'man up'."
Ian Paynton, the British co-founder of We Create Content, a content marketing agency based in Hanoi, is one of those people trying to fill the void.
An on-and-off Hanoi resident for the last nine years, Paynton released a music video on May 3 that tackles mental health issues in the digital age head on.
Entitled Find Me in the Mountains, Paynton raps over a beat laid down by Vietnamese beatboxer TuanSS, with the video directed by French filmmaker Vincent Baumont in the mountains of Cao Bang and Ha Giang.
While Paynton previously went viral with the catchy and humorous Oi Gioi Oi under the stage name E.P in 2012, Find Me in the Mountains is a much slower-paced and introspective track.
"The idea for Find Me in the Mountains came from the way I was feeling … it was only written for me."
Paynton wasn't planning on releasing the song until he performed it for Baumont, who persuaded him that they should make a video for it. TuanSS came aboard after Paynton heard him perform at an open mic night and realised he had found the perfect instrumental for his lyrics.
Those lyrics focus on the damage social media can do to mental health, from the addictive nature of the dopamine highs a like or comment can give, to the suffocating nature of maintaining an outward façade of happiness online, leaving Payton to opine that "Maybe all we need is a breather".
The video is set in one of Vietnam's most beautiful regions, with shots ranging from high in the mountains, to beautiful forests and even a sparsely-populated Meo Vac Market.
The video ends with a visually-stunning shot as a drone-mounted camera zooms out from a tight shot of two chairs to reveal the stunning backdrop of mountains and a valley, showing the film crew's set up, blue tarpaulin and all.
"I'm quite inspired by being quite real and showing behind the curtain a little bit, not only with my own mind, but even with the production. I think showing behind the curtain can be important sometimes, turning up as our authentic selves, rather than wearing masks all the time," Paynton says of the final shot.
Awareness
While Find Me in the Mountains began as a personal project, Paynton quickly realised he could use the song to draw attention to mental health awareness, something he's been championing through the Facebook group 'void (mental health conversations for men)'.
Paynton occasionally suffers from what he calls mild depression, and while the freedom and spontaneity of life in Hanoi as an expat are things he loves, when he's in that state of mind they become almost suffocating.
"I kind of feel like where am I, what am I doing here? Because this isn't home. I wanted to create a space where men, of course it's not only men who need these spaces, could feel like they could talk about their feelings and it would be ok to write they're not feeling great or share a bit of content about anxiety or depression or missing home, or anything."
The idea for the group was born roughly a year ago, when Paynton was at a retreat in Thailand meditating for 10 hours a day and realised he had to do more for mental health in his community. The name 'void' comes from the only book he was allowed to read on the retreat, Void Mind by Buddhadasa Bhikkhu.
Paynton invited a few friends to the closed group, who invited more and they began sharing their experiences. While many of the group's roughly 140 members, about 10 per cent of whom are Vietnamese, don't share posts to the group, Paynton says several have expressed how comforting they find reading posts.
The group has started branching out offline, beginning with a night featuring music, talks and comedy on Tuesday that aimed to raise awareness of mental health issues and funds for a mental health crisis hotline Paynton hopes to launch.
While 'void' is exclusively for men, Paynton is keen to stress this doesn't come from a place of discrimination but rather recognition of both genders' need for a safe and private space to express themselves.
Let's chat
Perhaps the opening lyric of Find Me in the Mountains best sums up what Paynton and a few others are trying to do with 'void'.
As Paynton sits down on a stool and places a steaming hot bowl of pho on the ground in the market, the song begins with a simple but comforting line.
"Friends on the internet gather round let's have a chat, 'cause I understand you've all been feeling flat 'n that."
Peter Cowan
VNS