Film director Nguyen Quang Dung's latest film, Ước Hẹn Mùa Thu (Love in Fall), has been released in HCM City, kicking off this summer film season.
Opportunities to develop Vietnamese cinema
Nostalgic Vietnam film to make debut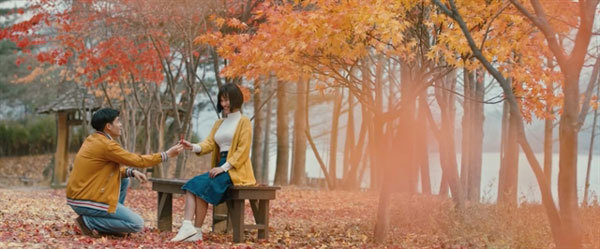 A scene from Ước Hẹn Mùa Thu (Love in Fall), a film by director Nguyen Quang Dung. (Photo courtesy of the producer)
The film about love and youth stars young actors Yoon Tran Quoc Anh and Vu Ngoc Hoang Oanh. Meritorious Artists Kim Xuan and Thanh Nam are also featured.
The film's soundtracks are composed by Duc Tri, one of the city's leading music producers.
Tri rose to fame not for his songs but for his ability to bring into the limelight such acts like pop stars Ho Ngoc Ha, Ho Quynh Huong and Thanh Thao.
His top hits include Giấc Mơ Chỉ Là Giấc Mơ (Dreams) Có Nhau Trọn Đời (Be Together).
"My film is a love song in praise of youth. I worked with Tri because I wanted my film's soundtracks to be top hits," said the film's director Dung, one of the first graduates of HCM City College of Theatre and Cinematography, in 1999.
Dung debuted as assistant director in Vũ Khúc Con Cò (Dance of the Stork) in 2002.
He is known for blockbusters Nụ Hôn Thần Chết (A Kiss of Death) in 2008, Những Nụ Hôn Rực Rỡ (Vivid Kisses) in 2010 and Mỹ Nhân Kế (Beauty Trap) in 2013.
In 2017, he released a film about traditional Vietnamese culture titled Dạ Cổ Hoài Lang (Night Drumbeats Cause Longing for Absent Husband) which took three years to complete.
The production was the only Vietnamese film screened at the ASEAN Film Awards, which was part of the 20th Viet Nam Film Festival held in the central city of Da Nang.
Last year, his dramatic film, Tháng Năm Rực Rỡ (Splendid Years), a remake of a Korean hit called Sunny, earned more than VND65 billion (US$2.85 million) in ticket sales 10 days after release.
The film about urban women featured movie stars Hong Anh and My Duyen, winners of the Golden Kite for Best Actress from the Viet Nam Cinematography Association.
He is working on a remake of the 2004 Hollywood romantic comedy 50 First Dates, a co-operation between Vietnamese Galaxy M&E Studio and Sony Pictures Studio. The film is expected to be released later this year.
"I love filming about Vietnamese youth in urban areas. This topic makes a profit," said the 51-year-old Dung.
His film Ước Hẹn Mùa Thu is produced by the country's leading private film company, Thien Ngan (Galaxy) Studio.
It will be in cinemas on May 10.
VNS