Vietnamese filmmakers should focus on the editing process to avoid mistakes and professionalise their work, experts said at a seminar on the film industry held Tuesday in HCM City.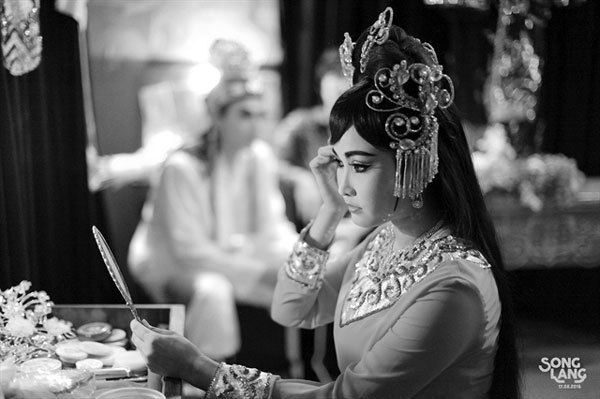 Song Lang (The Tap Box) is nominated for best feature film at the 2018 Golden Kite Awards, to be held in HCM City on April 12. -- Photo courtesy of the producer
The seminar was organised by the Viet Nam Cinema Association as part of the activities of the Golden Kite Awards, which will be held on April 12 in HCM City.
Tran Luan Kim, head of the awarding jury for feature films, said the market this year has seen more quality screenplays and films, but some of those films were weak in structure with illogical details.
"Some screenwriters lack life experiences so they create illogical details, dull dialogue and flat characters," Kim said.
Director and screenwriter To Hoang said that many private film studios had produced good films like Cô Ba Sài Gòn (The Tailor), Cha Cõng Con (Father and Son) and Song Lang (The Tap Box).
But these films, which competed in international film festivals, still included mistakes.
"Filmmakers should focus on the editing process. It's the most important thing," he said.
He said that he had learned from his experience in the US that editors are involved in every step of the filmmaking process, from screenplay to filming to post-production.
"Việt Nam's film industry needs experienced and talented editors to produce a fully-made film," Hoàng said.
Seminar participants agreed, saying that the country lacked human resources for the film industry.
Screenwriter and film producer Nguyen Thi Hong Ngat said: "Year by year, filmmakers produce better films, but that's not enough. Both state-owned and private film schools must focus on training to offer professional filmmakers for the industry."
Ngát added that Vietnamese films should promote Vietnamese culture, contemporary social life, and humanity.
Last year, 35 Vietnamese films were released, Ngat said. Most of them were comedies and action and horror films revolving around the themes of love and social conflict. Only a few films reflected serious topics.
"Vietnamese films are meeting demands of audiences. In the future, filmmakers should make changes to meet the higher tastes of local audiences," Kim said.
The 2018 Golden Kites Awards will be presented in six categories: feature and short films, cartoons, scientific films, documentaries, TV series and cinematography research.
The organiser has received 144 entries for the competition's categories, including best film, best director, best actor and best actress.
Of these, there are 14 nominations for feature films, including Song Lang which is about the traditional performing art of cải lương (reformed opera), Tháng Năm Rực Rỡ (Splendid Years) about youth, and Người Bất Tử (The Immortal) about a man keeping the secret for immortal life.
A week of free screenings is taking place at Cinestar Hai Ba Trung and BHD Star Quang Trung until April 10.
VNS