Over 4,000 artifacts that date back thousands of years ago are on display at the first private museum to open in Binh An Commune in the central province of Ha Tinh.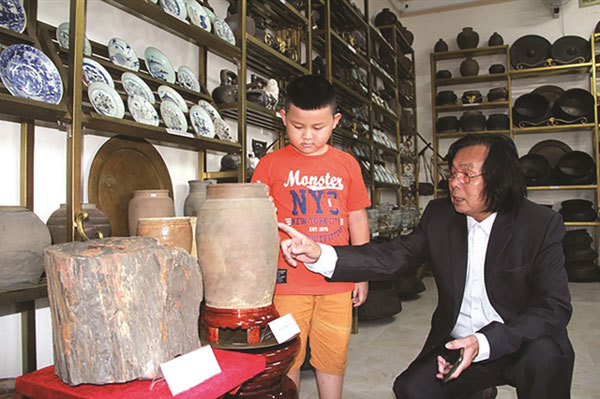 Nguyen Quang Cuong, a lecturer at Quy Nhon University, established Hoa Cuong Museum with the aim of educating younger generations in his hometown about local traditions. — Photo dantri.vn
Hoa Cuong Museum, which is owned by a lecturer st Quy Nhon University – Nguyen Quang Cuong, has recently been open to public after three years of construction, covering a total area of 1,500 sq.m.
Besides the valuable artifacts, the museum also has around 3,700 rare books and autographs mostly specialised in agriculture and rural issues.
Thousands of ancient artifacts dating back to the Ly, Tran, Le and Nguyen dynasties, together with some from the wars and the subsidy period, are also on display.
The oldest artifacts are a 300 million-year-old fossil wood block and prehistoric stone tools dating back more than 4,000 years.
According to the owner, the idea of preserving artifacts and establishing a museum for his hometown had been nurtured since he was a high school student.
Even after becoming a lecturer at Quy Nhon University in the central province of Binh Dinh and working there for 40 years, he was still obsessed with realising his dream.
"I spent billions of dong on building the Hoa Cuong Study Promotion House on the site where Hoa Cuong Museum is currently situated," Cuong said.
"At that time, the house had nearly 20,000 books of all kinds, sufficient to satisfy the locals' thirst for knowledge and initiating a study campaign in Binh An Commune and the vicinity."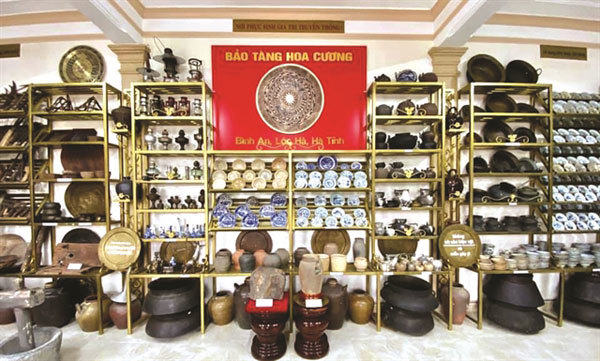 Hoa Cuong Museum houses over 4,000 artifacts that date back thousands of years, and around 3,700 rare books that are mostly specialised in agricultural and rural issues. — Photo Nguyen Quang Cuong Facebook
Work on the museum was started in 2017 when he was about to retire from his teaching career, with the aim of turning it into a school of tradition for locals in his hometown, particularly the younger generations.
I'd like the museum is expected to become a destination for extracurricular activities for students to learn about history, he said.
"I hope the museum will also offer another cultural destination for visitors to Ha Tinh Province," he added. VNS 

An art private museum featuring paintings of the country and HCMC particularly is expected to become a cultural destination of HCMC.   

Vietnam's first information technology museum was established by Doctor Nguyen Chi Cong, former Head of the Department of Science and Technology under the Vietnam Information Technology Association.