After debuting in the US box office on May 28, Bo Gia, a Vietnamese film produced by Tran Thanh Town, has seen its revenue surpassing the $1 million mark, becoming the first Vietnamese-produced title to reach that milestone.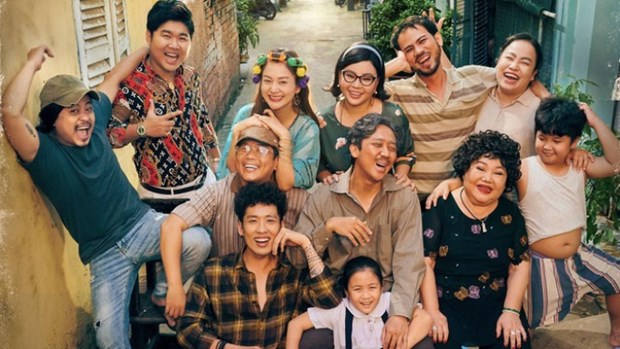 Cast and crew of Bo Gia (Photo courtesy of Bo Gia)
Starring, written and co-directed by Tran Thanh, the movie added 116,000 USD in its third frame to bring its US gross to 1.08 million USD. It has already been a success in Vietnam with over 17 million USD locally.
Bo Gia originally debuted in the US in just 19 theaters via 3388 Films, landing a spot in the Top 10 that first weekend and grossing over 400,000 USD to claim the record of best opening weekend for a Vietnamese film in US theaters. It then expanded to 38 cinemas on its second weekend, before playing in 47 across the US this past frame. That's the widest theater count for any Vietnam film in the US market, according to 3388 Films.
The film's success was bolstered by Vietnamese communities across the country, in areas such as Orange County, San Jose, Houston, Seattle, Atlanta and Orlando.
Bo Gia portrays the life of an elderly xe om (motorbike taxi) driver living in Ho Chi Minh City who faces challenges earning money for his wife and two teenage children.
The film is a new version of the most-viewed web drama (with the same name) in Vietnam in 2019. The five-episode series earned more than 90 million views, ranking as No 1 on trending on YouTube in Vietnam for the year.
Bo Gia features famous comic artists Tran Thanh and People's Artist-theatre actress Ngoc Giau. Young actors Tuan Tran and Lan Phuong are also included.
The producer invested 4 billion VND (172,000 USD) in filming./.
Source: VNA
Local film "Bo Gia" (Old Father) features in a list of the top 10 most popular movies in the United States, according to the latest statistics compiled by popular website Box Office Mojo.