A total of five Vietnamese players have been eliminated from the country's U22 team following the latest squad announcement.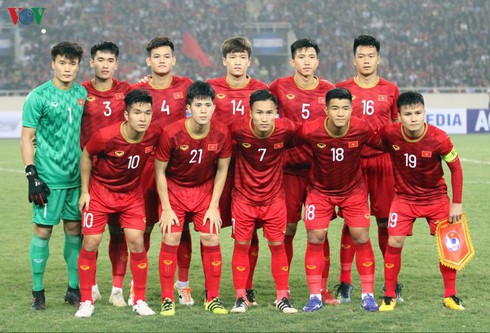 Vietnam's U22 squad 
The dropped players include Nguyen Van Hanh, Nguyen Huu Thang, Phan Thanh Hau, Nguyen Trong Dai, and Ngo Hong Phuoc.
Previously, Martin Lo, Hoang Viet Anh, Dung Quang Nho, Mai Xuan Quyet, and Nham Manh Dung had all been left out of the team.
Whilst a number of players have been moved out of the squad, the U22 team is also set to welcome six players from the senior national team following their recent World Cup 2022 qualifier against Thailand on November 19. The senior players set to join up with the squad include Nguyen Thanh Chung, Doan Van Hau, Nguyen Quang Hai, Nguyen Hoang Duc, Nguyen Trong Hung, and Nguyen Tien Linh.
As per the rules of the upcoming 30th SEA Games in the Philippines, two players over the age of 22 are allowed to be called up by each competing national team. Vietnam have selected Nguyen Trong Hoang and Do Hung Dung as the team's two overage players.
Following yesterday's qualifier in Hanoi, head coach Park Hang-seo and the six senior players joined the U22 team in Ho Chi Minh City.
Ahead of the tournament one player will be cut from the final squad as each competing team is only allowed to register 20 players. Park Hang-seo is set to lead Vietnam's U22 squad to the Philippines on November 22.
Here is the full list of the 21 players called up to the U22 squad:
Goalkeepers: Bui Tien Dung, Nguyen Van Toan, and Phan Van Bieu
Defenders: Nguyen Thanh Chung, Nguyen Duc Chien, Huynh Tan Sinh, Le Ngoc Bao, Doan Van Hau, Do Thanh Thinh, and Ho Tan Tai
Midfielders: Do Hung Dung, Nguyen Trong Hoang, Bui Tien Dung, Trieu Viet Hung, Tran Thanh Son, Nguyen Hoang Duc, Truong Van Thai Quy, and Nguyen Quang Hai
Forwards: Nguyen Tien Linh, Ha Duc Chinh, and Nguyen Trong Hung   
VOV

As the Southeast Asian (SEA) Games approach, the Vietnam national U22 football team are hard to work preparing for their tilt at the gold medal.