Facebook might rule the social media world when it comes to Vietnam, as an estimated 45 million people have accounts on the website.
H'Hen Nie wins Timeless Beauty award
H'Hen Nie achieves Top 8 finish in Miss Grand Slam 2018
It's another story when it comes to Twitter, which only has about 7 million accounts in the country.
However, quality is more important than quantity and there are some Vietnam-based Twitter accounts worth a follow, whether you want to keep abreast of current affairs, have the cockles of your heart warmed, or simply have a giggle.
@HHenNie92 – Vietnam's most wholesome beauty queen
While a spot on our list is certainly an honour, it probably doesn't beat finishing in the top five of Miss Universe 2018.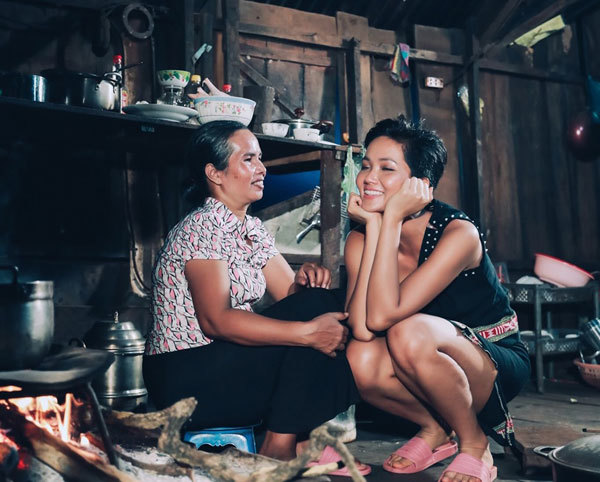 H'Hen Nie with her mom in the simple kitchen that belongs to her family in Dak Lak Province. — Photo from H'Hen Nie's Twitter
H'Hen Nie scored Vietnam's highest ever finish at the annual beauty pageant last year and was catapulted to fame, largely thanks to her grace in the face of offensive comments from Miss USA.
The ethnic minority Rade model is also known for her humility, something that's clear to see on her Twitter feed. Though she's not the most frequent user of the platform on this list, Nie is worth a follow thanks to how damn heart-warming her posts are.
@ThatsNotVN – It's banh mi, not bahn mi
If an Illinois based brewpub is selling a "Bahn Mi Side Trail Burger", @ThatsNotVN will call them out.
If a bar in Shoreditch is unashamedly flogging "Vietnamese fries", @ThatsNotVN will call them out.
If anyone tries to call a minor inconvenience "their Vietnam", @ThatsNotVN will call them out and remind them Vietnam is a country, not a war.
Basically, this account shames companies and individuals in the West that misunderstand, exploit and exoticise Vietnamese people and culture, all while providing a witty and sharp running commentary.
Follow for laughs at how many different restaurants try to deconstruct bánh mì (mostly by removing the bread) and to get a bit more woke on cultural appropriation.
@misscvietnam – Belly laughs guaranteed
It's hard to understate how damn funny this account is.
Run by the general manager of a beach resort in central Vietnam, @misscvietnam recounts the ridiculous, hilarious and downright bizarre world of working in the service industry.
Whether it's a guest insisting they bring their own beer as their allergic to everything but Corona, or discovering a 10-year gardener on staff has never learned how to water plants, the hilarity never stops.
Unless, I presume, you actually have to work at this resort.
@soccervietnam – Football news first
Forget Messi, Ronaldo and the Premier League, Vietnam has its very own domestic football leagues, and one of the best ways to follow the ins and outs of the V.League is through
@soccervietnam.
With news on fixtures, line-ups, suspensions and everything else V.League, this account is one of the best ways to keep up to date with local football, in English anyway.
@VietNamNewsVNS – The national English language daily
Saving the best (we hope) for last, follow the Viet Nam News official Twitter account for a look at our front page every day, some of our best stories and some Twitter-only pictures.

VNS