Ngan Ngoc Nghia collapsed after the finish line and needed help to get back on his feet. He had used every ounce of energy at his disposal to win the 200 metres sprint at the National Athletics Championships.
It was his third win at the championships, held recently in Hanoi's Mỹ Đình Stadium, joining the 100 metres and 4x100 metres relay.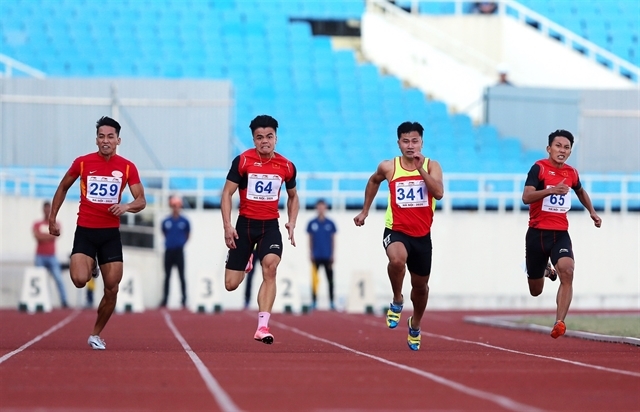 Ngan Ngoc Nghia (second from left)
The 21-year-old sprinter is now Vietnam's fastest man, not only defending his title but also setting a new bar in the 200 metres, breaking the record he set in 2018.
Mountain man
Born to a White Thai ethnic minority family in the northern mountainous province of Sơn La, Nghia is quite rare in choosing to pursue a career in sport.
The then 16-year-old caught the eye of People's Public Security team scouts after a local competition in 2011, and he headed to Hanoi for training soon after.
"Athletes should begin proper training at an early age, but I was at home doing farming chores and raising pigs and cows," the four-time national 100m champion said.
"I took part in provincial competitions every year and dreamt of securing a place in the Bac Ninh University of Physical Education and Sports.
"One day, the coaches come to recruit athletes and I was selected. I was a little older than the others, but I became a runner that day."
A year later, he won his first national title, in the 4x100m relay.
Then, at 18, he stepped on the top of the dais in the 100m sprint and has dominated the event ever since.
The young man was confident defending his title last week, though he knew that former national champion and SEA Games 2015 200m winner Le Trong Hinh was in another lane.
Hinh won the 2015 title and soon became Vietnam's sprinting hope at international tournaments. But after an accident in 2016 he disappeared from all competition and only returned to the track this year.
Nghia's confidence helped him run like the wind and leave the competition, including Hinh, in the dust.
Two years ago, Nghia was in the form needed to win gold at the National Sports Games, posting a time of 10.47 that beat Hinh's two-year record of 10.48.
This year, Nghia not only beat Hinh with ease but set a new record of 10.40.
Later in the week, he and three teammates won the 4x100m relay, and he then won the 200m gold.
"It's the best I've done in my five years as an athlete," said Nghia, who didn't let COVID-19 affect his training.
"The gold and record time at the 2018 National Games made me happy, because I'd recovered from an injury. But the wins this year feel great too, because I got through the COVID challenge as well."
"The support of the coaching panel and my own determination took me across the line."
Flat-footed champion
Success came to Nghia not too long after he took up athletics but it was no easy route.
He was "normal" at birth but after many years in the mountains the structure of his feet had changed to adapt to the local terrain.
While it doesn't affect his walking in the slightest, it's a challenge as an athlete.
"I saw his feet when I first met him and knew he would have problems with injuries," said coach Nguyen Van Hoang. "But his speed and physical strength, which are so important in sprinting, have always been impressive."
"He had to work harder than others to overcome the disadvantage, training with tightly-bandaged feet. He does that every day, and its hurts, but he's never complained even once."
"And he's proven that someone who is flat-footed can be the fastest on the track."
Nghia beat second-place by 0.33 seconds in the 100m race and 0.29 seconds in the 200m.
Eye on SEA Games
Nghia's biggest dream is a berth in the Vietnam team at next year's SEA Games in Hanoi, and he has an eye on a medal, which has eluded the country's track team so far.
"I will have to train a lot harder," he told Vietnam News. "If I can maintain my peak and avoid injuries I will be faster. But training alone gets boring, and I really need pacemakers to push me to go faster."
Coach Hoang agrees, saying that Nghia is the only sprinter in the national team training alone. He hopes that more athletes will soon join the team and group training can begin. Competitiveness among runners always tends to make everyone run a little quicker.
"Nghia is strong in the closing stages of a race," he said. "But his opponents, especially those from Thailand, are very good sprinters. He needs to improve his overall fitness and his starts. It's hard to talk about SEA Games gold medals or new records, but he will definitely be quicker when the time comes."
The winning times at the last SEA Games were 10.36 in the 100m and 20.71 in the 200m.
"Nghia has made a lot of progress over the last four years and is fully capable of breaking 10.40, which is close to the SEA Games' record," said Khuat Huu Duy, manager of the athletics department at the People's Public Security Sports and Training Centre.
"With a year to go until the SEA Games in Hanoi, we hope he can better his times and help Vietnam win gold on home turf."
VNS

The 31st Southeast Asian Games is expected to feature 40 sports and more than 520 categories, heard the second meeting of the Southeast Asian Games Federation Council which was held online on November 20.