As the Covid-19 outbreak has been mostly controlled in many provinces and cities, V-League 2021 will return on March 13 with a plan to allow a small number of fans to attend the matches.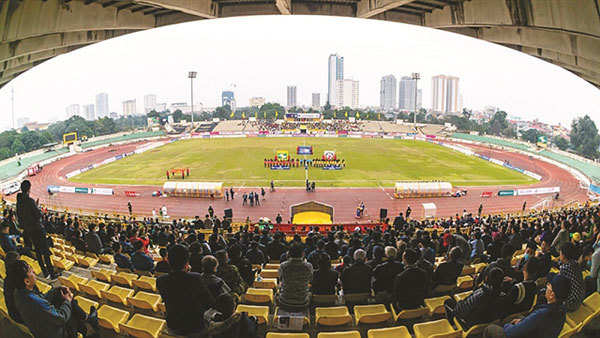 Fans will be allowed to attend the matches of V League 1 as the recent COVID outbreak has been mostly controlled in many provinces and cities. Photo thethao247.vn
According to the organiser, four out of five home teams are competing in the third round of V-League1. Authorities have allowed the opening of the stadium for home team fans.
The People's Committee of Hai Phong has allowed the home team to open Lach Tray Stadium for more than 5,000 people.
Meanwhile, Viettel, SHB Da Nang and Hoang Anh Gia Lai have also been allowed to welcome back their fans to the stadium.
The match between Quang Ninh Coal and HCM City FC will be played without fans.
To ensure safety against COVID-19, football fields must be disinfected on the morning of the match days. Support personnel must use medical gloves and wear face masks, while referees and officials in contact with players must keep a distance of at least 1 metre.
The organisers will not allow children to be present, while VIP guests will not be allowed to go onto the field, shake hands or give flowers to players. Team members are not allowed to shake hands with one another.
The V-League third round matches will take place on March 13-14. Round 4 will be held on March 19-20.
The next rounds will be organised later when teams will have only 3-4 days off between matches instead of one week as before.
Under this schedule, the first phase of the V-League will finish as planned in July, with its second stage concluding on September 19. 
VNS

There's nothing quite like a day out to watch live football.